AutoCAD Cloud Hosting
Securely access AutoCAD applications from any device, any location. Host your AutoCAD construction Cloud application on a remote desktop to improve the application's accessibility, security & flexibility.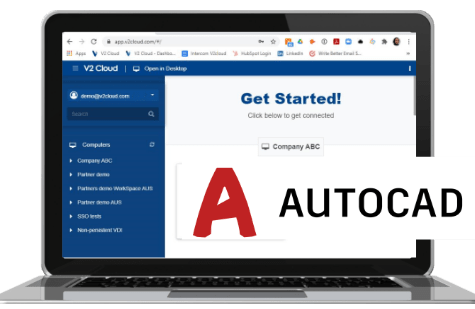 What is AutoCAD Cloud Hosting? Install AutoCAD software on a remote cloud server, and access the application from anywhere, on any device. Allow your employees to securely access your AutoCAD applications and data on VDI—from any device at any location
Benefits of AutoCAD Cloud Hosting:
Improved Security
Your business data is hosted in a highly secure environment
Better Accessibility
The application can be accessed from any device and any location
Ensured Reliability
The app is not dependent on your device and your cloud computer is available >99.9% of the time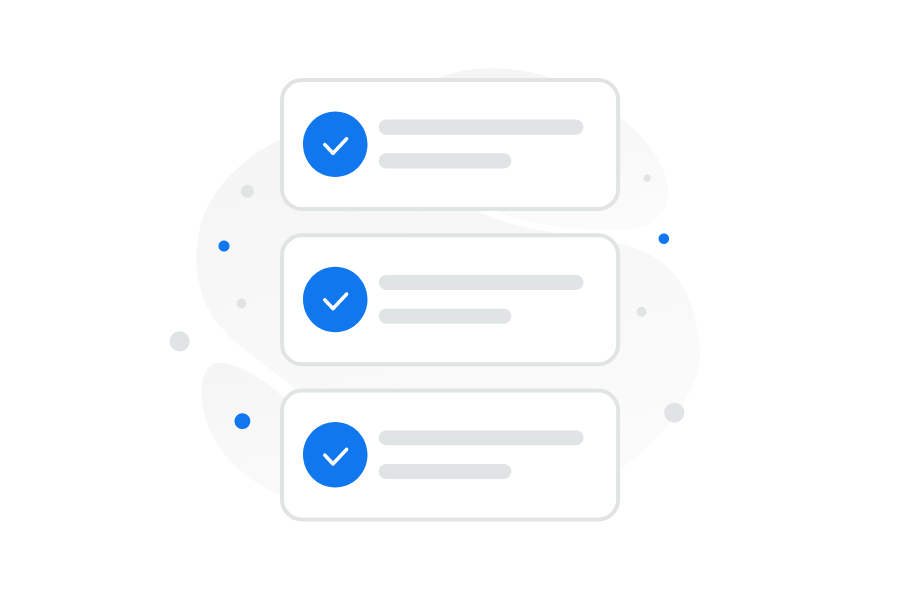 Why Host AutoCAD on V2 Cloud's Virtual Desktop
Application Hosting Management: V2 Cloud ensures AutoCAD applications are available, accessible to protect against security vulnerabilities.
Enterprise-Grade Reliability: Our infrastructure ensures maximum reliability and >99.95% uptime for AutoCAD VDI solution.
Unmatched Support: Chat, email & phone support available 7 days a week.
High Security: Integrated security modules including proactive monitoring, multi-factor authentication (MFA) and single sign-on (SSO).
Daily Backups: Daily snapshots of your AutoCAD VDI enable you to restore individual files or revert the whole cloud computer in case of a disaster.
Host Additional Applications: In addition to hosted AutoCAD, our environment can get also host other applications such as QuickBooks.
Host AutoCAD in 4 Easy Steps with V2 Cloud
Get your AutoCAD Construction Cloud Hosting quickly and easily:

Choose Your Plan
We offer tailored plans through which our customer success team can guide you.

Build Your AutoCAD VDI
Just as when buying a laptop, choose how much memory and processing power you need.

Share AutoCAD Details
Securely provide your AutoCAD Cloud license to install it on your cloud computer.

Get Started
Log into your V2 Cloud portal and use virtual desktop for AutoCAD as if you had it installed on your device.
Which Plan Fits your Business?
See the full list of features for each plans.
Testimonials
25,000 users work better with us.
"Easy to use for Small Accounting Business"
As a small business with very few employees all the alternatives required minimum order commitment and exceeded our budget. V2 Cloud help us setup the machine we needed and also install our accounting software.
"Great Solution with Top Notch Support"
V2 Cloud was easy to setup for all of our users and the support team was immediately available to assist with any questions during and after setup.The product has been working without any flaws.
Get started with AutoCAD Construction VDI on V2 Cloud
What is AutoCAD Cloud Hosting?
AutoCAD has been one of, if not the most recognized computer-aided design (CAD) program for decades, despite actually not being the pioneer.
AutoCAD allows its users to draw and model 2D and 3D geometric objects on computers with a capability for creating virtually all types of objects and structures.
With its capacity and versatility, AutoCAD is widely used in many different fields, from graphic design to interior design to architecture and civil engineering, among others.
Yet, with its powerful capability, AutoCAD is also a very power-hungry application requiring a powerful (and often expensive) device to run it in a reliable way.
V2 Cloud's AutoCAD Cloud Hosting service answers this concern by allowing you to access AutoCAD via V2Cloud's secure cloud servers instead of relying on your own device.
Rather than downloading and installing the AutoCAD platform on your desktop device, you can run AutoCAD on a virtual desktop over the cloud.
This configuration allows you to securely access AutoCAD Desktop software remotely from anywhere and on any device (including mobile devices and inexpensive thin clients.)
Why Host AutoCAD on V2 Cloud Hosting Service?
A Virtual Desktop— allows you to access AutoCAD via a virtualized server, and in the context of CAD and graphic-intensive works, hosting AutoCAD on V2 Cloud will offer the following benefits:
-Reliability: in CAD and graphic works, you'd want a reliable and stable operation to ensure productivity. V2 Cloud's infrastructure ensures >99.95% uptime and maximum reliability.
-Secure and managed hosting: V2 Cloud's managed hosting service ensures you can access AutoCAD securely while protecting your assets and valuable data.
-Host more applications: in addition to the AutoCAD app, with V2 Cloud's virtual desktop you can also host other popular applications as you see fit (check out this list for more details.)
-Technical support: Chat, email & phone support are available seven days a week for free. No additional fee is required for technical support.
-Secure infrastructure: V2 Cloud's virtual desktop includes integrated security modules, including proactive monitoring, single sign-on (SSO), and multi-factor authentication (MFA)
-Daily backups: Automated snapshots of your cloud desktops, allowing you to restore individual files or revert the whole cloud desktop and the AutoCAD app in case of crashes or other issues
How to Start Hosting AutoCAD on V2 Cloud Virtual Desktop?
You can get your AutoCAD cloud hosting quickly and easily in just a few simple steps:
Step 1: Choose your plan. Choose from V2 Cloud's available plans, starting from $40/month. You may also opt to get a custom-tailored plan according to your unique needs.
Step 2: Build your virtual desktop. choose your virtual CPU, memory, storage space, and any other virtual components you'd need, just as when you are buying a physical PC or laptop.
Step 3: Log in to AutoCAD. Securely provide your AutoCAD license to install it on V2 Cloud's virtual desktop.
Step 4: Start using AutoCAD. Log into your V2 Cloud platform and start using AutoCAD on the cloud environment.
Which AutoCAD version can I host in the cloud?
V2 Cloud supports all types of versions and licenses of AutoCAD that are still supported by AutoDesk, including older versions of AutoCAD programs.
Are there any backups in AutoCAD cloud hosting service?
V2 Cloud provides VM backups snapshots for free, with seven automatic daily snapshots included. Your snapshots are securely stored offline in an off-site location to ensure they are ransomware-proof.
Is it secure to host AutoCAD in the cloud?
Yes, and in fact, you'll get improved security by using AutoCAD via V2 Cloud's virtual desktop compared to accessing it physically on your computer.
With V2 Cloud virtual desktop, all data transmitted to and from AutoCAD platform is hosted in V2 Cloud's highly secure cloud environment, with enterprise-grade reliability and >99.95% uptime.
Some advanced security features you'll get from V2 Cloud's AutoCAD cloud hosting service include proactive monitoring, SSO (Single Sign-on), and MFA (Multi-Factor Authentication.)
With V2 Cloud virtual desktop, all communications are tunneled and encrypted. No incoming ports are open by default; connections using Web Connect always use HTTPS with a valid SSL certificate.
Remote Desktop connections using the V2 Client for Windows and Mac use SSH tunneling + SSL encryption.
How much does it cost to host AutoCAD on V2 Cloud?
V2 Cloud offers a wide variety of plans for the AutoCAD cloud hosting service, with the most affordable plan being $40/month without any hidden fee. If you'd like a custom plan, you can also contact V2 Cloud directly to discuss your needs.
All plans are without contract and month-to-month in nature. You can cancel whenever you see fit. However, you will receive a 10% discount for all plans if you purchase for 12 months upfront.
V2 Cloud provides a risk-free trial period of seven days. You pay the total amount at first, but V2 Cloud will automatically refund your order if you cancel within 7 days (no questions asked.)
Are there any hidden fees?
No, the price you see on V2 Cloud's pricing page is the price you pay. V2 Cloud does not charge for internet bandwidth, technical support, over usage, or other things. Everything is included. You'll get a monthly invoice that will reflect what you see on the pricing page.