Application
QuickBooks Premier Hosting
The perks of Quickbooks Premier desktop application; the flexibility of the Cloud.
Call us now:
1-866-807-7155
With QuickBooks Premier hosting, stop worrying about losing your data. Everything is backed up on the Cloud; you can share files, collaborate with your colleagues that are teleworking, manage seasonal employee access, and adjust the computer performance needed.
Available Everywhere
QuickBooks Premier hosting doesn't care where your team is located. Connect on V2 Cloud and keep your operation running when it's needed. Simple as that.
Pay-as-you-go
It doesn't matter if you need 5 or 250 users. You create the number of users and power you need and we manage everything for the bandwidth you're using.
Better Files Management
Accounting software necessitates multiple files versions and updates. Make sure everything is managed, stored correctly, and cybersecured.
Cybersecurity on top
Your customers' financial information is confidential and should be protected at all costs. Stay safe from ransomware with V2 Cloud.
7-Days Automatic Backups
256 Encryption
Fully-Managed Antivirus
Integrated Setup
You'll never have to work with an IT firm to make your cloud computers work. We take care of everything with our integrated solution.
Full-on technical support
No IT skill necessary
Cloud computer ready in 30 minutes
Custom Login Page
Don't confuse your non-tech-savvy users by providing them with a custom login page. Your logo and your custom URL await them.
Tailored Cloud Computers
Company logo & URL
Your own IT experts
Multi-Users Workspaces
Managing different cloud workspaces can be pricey and tough to deal with. Our infrastructure enables you to add multiple users to the same hardware.
Share view & files between users
Custom users management
Scalable cloud resources
Fully integrated virtualization software
Fanatical technical support
24/7 monitoring and 99.995% uptime
Ransomware data protection
Incomparable simplicity of use
Unlimited teleportation globally (America, Europe, Asia, Australia)
What people think about Us
It has been one of the best decisions we have made in our 20-year history. It has given us peace of mind and IT is no longer a hurdle in making business advancements. Like I said earlier ... V2 Cloud has been 2nd to none ...
Working with V2 Cloud was a no-brainer for me, especially after I saw that they deliver on their marketing promises. I barely have to do anything but I profit a lot. I'm a raving fan...
We believe that V2 Cloud is the only solution on the market that is capable of creating a true web-based experience for windows application.
I've been using V2 Cloud for over 2 years now, and it has been fantastic. Our productivity has increased as we can all work off the same server. I recommend V2 Cloud to any business in search of a secure, reliable and cost-effective cloud desktop solution...
The ease of use of the V2 Cloud solution makes it SecureFLO's first choice for its secure Desktop-as-a-Service offering. It's the intuitive user interface and minimal configuration makes it easy for SecureFLO to focus on our competency: protecting information at risk.
VMR has been offering cloud-based services for more than 8 years, and I can say with certainty that V2 Cloud provides the highest-quality cloud solution for small business regardless of industry.
❮
❯
Work on any applications, anywhere
with V2 Cloud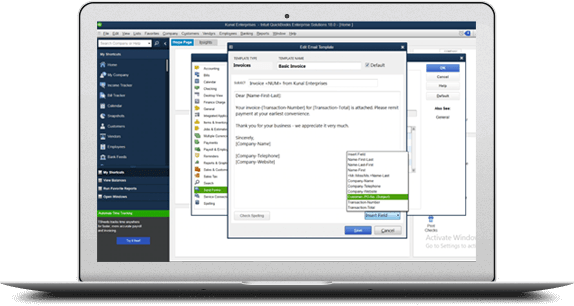 What is QuickBooks Enterprise Hosting?
QuickBooks is a well-known accounting software solution developed by Intuit, facilitating streamlined and simplified accounting processes for businesses.
V2 Cloud QuickBooks Premier Hosting service, on the other hand, is a virtual desktop solution enabling businesses to seamlessly integrate QuickBooks Premier application and the stored accounting data to V2 Cloud's high-performance computing resources. This configuration allows users to access the full-featured QuickBooks Premier experience remotely from anywhere and on any device (including expensive thin clients and mobile devices.)
Intuit does offer native ways to access QuickBooks remotely: there is the QuickBooks Online version that is designed to be accessed remotely. However, it doesn't offer the full features you'd otherwise get from V2 Cloud's QuickBooks Premier hosting.
By moving your licensed QuickBooks Premier to the cloud, you can also allow multiple users to collectively contribute to finishing the tasks at hand, improving overall productivity.
With V2 Cloud's QuickBooks Premier Hosting, you get a secure and reliable way to access full-featured QuickBooks Premier, along with all its add-ons, from any device, anywhere, as long as there's internet connectivity.
Which QuickBooks Premier version can I host in the cloud?
V2 Cloud QuickBooks Premier Hosting service supports all versions of QuickBooks Premier desktop accounting software. This includes the US, Canadian, and UK versions of QuickBooks Premier, as well as the industry-specific editions of QuickBooks Premier, including but not limited to:
QuickBooks Premier Professional
QuickBooks Premier Non-profit
QuickBooks Manufacturing and Wholesale
QuickBooks General Contractor
QuickBooks General Business
QuickBooks Retail Management
All of these versions are hosted on high-performance remote servers with enterprise-grade security.
How much does it cost to host QuickBooks Premier?
Basic Plans for V2 Cloud QuickBooks Premier hosting start from $40/month, while Business Plans with MFA/SML SSO integration support and off-site daily backups start from $60/month.
For larger companies that require more licences, V2Cloud offers The Enterprise Plan for up to 64 users for $1,680/month.
V2 Cloud's QuickBooks Premier hosting minimises the requirement of investing in physical IT infrastructure, lowering your long-term costs in the long run.
Is There Any Setup or Installation Fee?
No, there isn't any setup fee if you decide to start using V2 Cloud's QuickBooks Premier hosting service.
Instead, we will help you migrate relevant data (i.e., accounting files from existing QuickBooks software) from your location to our servers for free once you've made your subscription.
There will be no hidden cost or additional cost on top of your subscription fee.
Will I need to pay extra for multiple QuickBooks files?
No, there will be no charges based on the number of files. You can upload any number of QuickBooks files on the cloud server for free.
Is it secure to host QuickBooks Premier in the cloud?
By subscribing to the V2 Cloud's QuickBooks Premier Hosting service, you never have to worry about data integrity and security on our cloud platform.
You are provided with private servers to ensure maximum security and reliability, as well as robust, latest firewalls to make sure your files are 100% secure
Can I Install Other Apps in the QuickBooks Premier Hosting Service?
Yes. In using QuickBooks Pro hosting on your virtual desktop, you can also add other applications via various integration options within minutes.
V2 Cloud's robust hosting environment is fully compatible with all applications that can integrate with QuickBooks (via QuickBooks Web Connector, IIF import/export, or Intuit Sync Manager,) including numerous QuickBooks add-ons and extensions available in the market.
Does V2 Cloud Offer Automated QuickBooks Backup?
Yes, with the QuickBooks Premier Hosting service, V2 Cloud offers automated backup and disaster recovery as part of the QuickBooks Pro Hosting subscription. You'll get an automated backup of your QuickBooks files, so even if one of your employees deletes the wrong file on their desktop, you recover the file quickly and easily.
With V2 Cloud's automated backup service, you don't need to manually back up your data on your system (although you can still do it for extra safety.) You are protected from any disaster that may cause you to lose your QuickBook files, including ransomware attacks.
Does V2 Cloud Offer 24/7 Technical Support?
With V2 Cloud's QuickBooks Premier Hosting service, you'll gain access to V2 Cloud's 24/7 free technical support via phone, live chat, and email.