What Is Desktop Virtualization and How It Can Benefit Your Business
Nov, 2nd, 2021
05 mins 33 seconds
Author: Gabriel Bujold
Over the last 25 years, computers have become integral agents of change within corporations, industries, and even classrooms worldwide. A particular computing buzzword that has crept up in the computing community over the last decade is desktop virtualization, supported as a solution to the ever-increasing issues companies face – such as cost control, regulatory compliance, manageability, security, and business continuity. In this article, you will learn more about the top desktop virtualization benefits and hot this technology works
What Is Desktop Virtualization?
Despite being a somewhat generalized term, virtualization simply refers to the operation and management of computing components on virtual platforms. Its primary use is to simplify the management and the optimization of resources.
That being said, desktop virtualization is simply the concept of replacing traditional physical desktop environments with remotely controlled computing environments.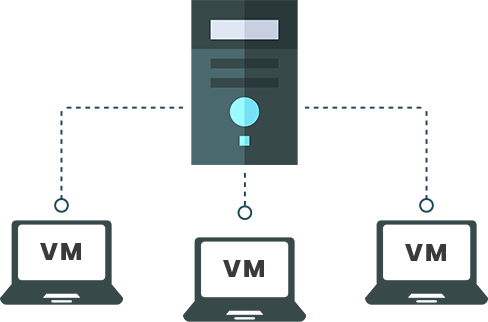 This concept is acclaimed as the most effective virtualization solution to meet the computing world's demands for reduced management costs, enhanced data security, and more flexibility–suiting any size of organization, from home usage to multinational entities.
Types of Desktop Virtualization
Considered an alternative to traditional distributed software deployment, desktop virtualization is made up of two key deployment models: Hosted Desktop and Client Virtualization.
Hosted Desktop Virtualization
In this desktop virtualization model, a computer server living in a data center basically hosts the virtual machines, enabling users to connect to the server via standard protocols like Remote Desktop Protocol (RDP) or connection brokers.
Hosted desktop virtualization is executed in three main formats:
1. Virtual Desktop Infrastructure (VDI)
Here, the operating system (OS) operates a virtual machine that contains desktop images on a server. Consequently, a hypervisor is employed to split the server into disparate desktop images that users can remotely access through their endpoint devices.
2. Remote Desktop Services (RDS)
This variation of hosted desktop virtualization provides users remote access via shared desktops and applications on Microsoft Windows Server OS.
3. Desktop-as-a-Service (DaaS)
This variation operates in a manner similar to that of VDI, as end-users can access their desktops and computer applications from any endpoint device or platform. However, the key difference with DaaS is that one has to purchase, deploy, and manage all the hardware components themselves.
Client Virtualization
This desktop virtualization model revolves around the installation of a hypervisor on a client device to run multiple operating systems, thus eliminating the need for users to maintain their own dedicated hardware and software.
Principally, client virtualization deployment has two key variants:
1. Presentation virtualization
This avails a web-based portal that users can leverage to interact with desktops and apps.
2. Application virtualization
This client virtualization approach enables apps to run on other platforms. For instance, running Windows apps on the Linux OS.
How Desktop Virtualization Works
Though not a new concept, desktop virtualization mainly revolves around access to a single hardware component, such as a server, being coordinated so that multiple computers ("thin clients") can share that hardware without end-users being aware that they are actually sharing anything at all.
Therefore, a virtualized desktop system enables end users with remote access to the desktop environment via "thin client" devices, which are basically PCs wired to function in a virtualized system. And through this centralized server-based infrastructure, end users can access what they would usually see on a PC (for example, applications such Microsoft Word or PowerPoint) in a familiar way (with their user ID and password) from any PC within the system, regardless of their geographic location or the physical packaging of their devices.
With computer virtualization, it's possible to run unique programs from disparate operating systems (Microsoft Windows, Mac OS, Linux) simultaneously on the same hardware.

Overall, desktop virtualization replaces physical resources with Web-based application interfaces, enabling users to access their files, music, documents, or whatever else is stored on their cloud-based desktop.
This means that actual computer virtualization allows a user to maintain their own desktop where they can work from, save and modify data, without conflicts with other users, running on top of separate or shared operating system instances. They are accessible via any device having network connectivity, such as a traditional computer, laptop, iPad, or smartphone.
Desktop Virtualization Benefits
1. Flexibility
Users can basically access their computer applications and data on any computing device, in any location worldwide, as long as they have internet access. As such, they do not need to be chained to their workplaces, or to rely on flash drives and email threads to transfer data from one place to another.
2. Cost efficiency
Desktop virtualization contributes major cost savings to businesses as it eliminates upfront capital expenses for equipment, extra personnel, hardware, storage, maintenance.
3. Enhanced security
Human error is the main reason that most security problems occur, not cloud infrastructures. Reliable desktop virtualization providers avail layers of cloud safeguards to protect one's data and eliminate threats, such as the highest quality encryptions, routers, switches, and continuous monitoring to ensure one's cloud remains safe.
4. Environmentally Friendly
Generally speaking, desktop virtualization augments an organization's ability to go green since it eliminates their need to purchase their own hardware. Thus, drastically reducing in-house energy usage and costs.
5. Centralized management
Desktop virtualization can benefit businesses by centralizing and simplifying computing resources management, including desktop control, data security, data control, backup, and disaster recovery.
6. Disaster recovery
With the full redundancy that desktop virtualization solutions provide, it's easier to recover data in case of a disaster. In practice, in case of system failure or catastrophic physical events, data centers can pick up from where you left off, and continue running as normal, thus minimal downtime.
7.Increase Employee Productivity and Onboarding
Releasing your employees from central workplaces doesn't mean compromising on important management functions like oversight and accountability. By using a DaaS provider, controlling the access to data and applications no longer requires the scrutiny of hard networks and devices – it's possible to perform these tasks remotely.
Some of the desktop virtualization benefits include broader hiring horizons and greater appeal to a younger and more dynamic labor market. Providing your remote workforce with desktop virtualization allows faster and seamless employee onboarding, provisioning, and productivity.
Key Tips When Choosing a Desktop Virtualization Solution.
Determine your business capabilities by asking yourself whether you have adequate expertise, resources, and the need to mount VDI, RDS, or DaaS. Then base your decision on your evaluation.
Cost is always a key concern when implementing desktop virtualization solutions. During VDI deployment, the most significant costs go towards setting up the infrastructure, scaling expenses, and recurring maintenance costs. So, ensure to seek out an affordable long-term solution.
It's important to determine the infrastructure control capabilities offered by the desktop virtualization solution provider in terms of updating the infrastructure, such as securing network services.
How We Compare: Discover the main differences between providers
Final Takeaways
Desktop virtualization provides a centralized infrastructure that hosts a desktop image that users can leverage remotely. Furthermore, desktop virtualization delivers great benefits with regards to data security, cost of ownership, and manageability of multiple operating systems instances running in extensive intra-networks.
Additionally, you can benefit from desktop virtualization by augmenting an organization's digital operations in today's evolving technological landscape as more businesses quickly move to online spaces and seek to be more environmentally friendly.
Computer virtualization adoption will ultimately help businesses save energy, waste, and physical space across different organizations as telecommuting and online collaboration increases.