4 Email Monitoring Tools You Should Use in 2022
February 07th, 2022
05 mins 33 seconds
Author:Haris Khan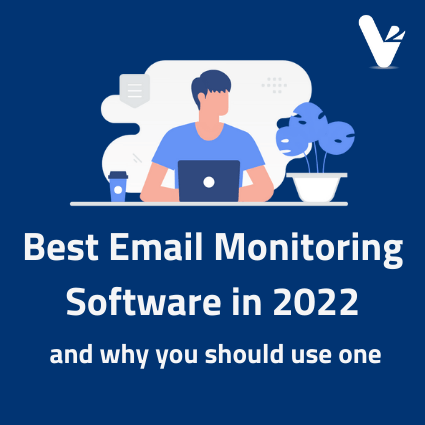 As remote work continues to become the new norm for organizations and businesses, the importance of effective employee monitoring has increased tenfolds.
With teams working remotely, it has become increasingly difficult for management to closely monitor their employees' activities. Remote work culture certainly calls for the need for strategic surveillance tactics to track employees.
Email Monitoring – What does it mean?
It's one of the many different tracking methods used for monitoring an employee's day-to-day work-related activities. Email monitoring is a popular means of workplace surveillance. It allows employers to ensure that employees are properly managing emails and following organizational guidelines during their communication with clients. .
Based on the monitored results, you can tackle possible email security threats, guide employees to work according to the company guidelines, and improve employee productivity and accountability.
Why is it crucial for your business?
It is one of the fundamental monitoring activities that need to be enforced in workplace environments, especially in remote work cultures. Here are a few categorical reasons why email monitoring is crucial for your organization:
1. Security
Emails present a primary source of security threats and vulnerabilities. Some of the most devastating cyber threats make their way into company systems via emails. Malicious senders can use emails to pose several catastrophic threats such as social engineering scams, malware infections, and phishing attacks. Your businesses' online security and the confidentiality of customer data are at high stakes if such fraudulent emails and activities are not appropriately identified.
An effective email monitoring strategy helps in identifying suspicious emails just at the right time so that any possible external threats can be tackled and dealt with in time.
2. Employee Productivity:
By monitoring employees' emails, you can also gain some valuable insight into the efficiency and productivity of your team. You can identify which employees are providing timely responses to critical customer emails. Moreover, you can track which employees are not able to effectively communicate and resolve client issues via emails.
Thus, by keeping a close eye on employees' email activities, you can easily observe the quality and frequency of an employee's communication with the customers and clients. This will assist you in devising special training programs to cover the weak spots and train the team with respect to email activeness to boost their productivity.
3. Workload Distribution:
Email monitoring can also provide you with an idea of the workload that different employees are managing. Usually, employees engaged in more email sending/receiving activities are most likely to be handling more workload. By assessing the employee workload, you can handle work redistribution more properly and avoid any work-related conflicts while improvising employee engagement.
4. Adherence to Policies:
Moreover, as an additional benefit, email monitoring can also give you awareness regarding how many employees are abiding by organizational policies and rules while communicating via emails.
Top 4 Email Monitoring Tools to use in 2022:
Over the years, email monitoring tools have transitioned into very sophisticated systems equipped with state-of-the-art surveillance and tracking techniques. The top tools in this category have remarkable features that have been developed in correspondence with the latest threats and challenges.
Here is a list of the top 4 email monitoring tools that you can employ for your business:
1. Teramind Email Monitoring:

Teramind is a comprehensive employee monitoring and tracking solution that is available both as on-premise software and as a cloud service. Teramind offers three different editions i.e Starter Plan, Data Loss Protection (DLP) Plan, and the User Activity Monitoring (UAM) plan. The UAM and DLP packages include the email monitoring module.Teramind's email monitoring system focuses on providing an emphasized level of protection against malicious email threats.
Teramind's email monitoring tool has its focus on preventing any sort of data disclosure in outgoing emails. To be precise, Teramind blocks sensitive data transfer in outgoing emails to protect from possible insider threats.Moreover, Teramind's email monitoring software keeps track of all the events associated with reading or typing out outgoing and incoming emails. This includes the email message content and all attachments as well. Teramind's email monitoring capabilities are available for all major email platforms such as Gmail, Outlook, Yahoo, and more.
The software issues automatic alerts whenever any email is sent out to a non-corporate or suspicious email account. It also provides the feasibility to set alerts on emails based on any provided criteria such as recipients, the email subject, or content.
2. Interguard Email Monitoring:
InterGuard's set of innovative employee monitoring features is highly focused on managing the remote workforce. The email monitoring module of this employee monitoring suite is an exceptional choice for monitoring employee emails in a remote work environment. The tool is available for various email platforms such as Gmail, Outlook, Office 365, and more.
InterGuard offers a wide range of email tracking and security features that facilitate employers in keeping a close eye on employees' email activities. Its powerful set of features includes the monitoring of emails and attachments, the ability to set up alerts based on different keywords, the configuration of different user level policies, highly interactive dashboards for reporting, and malicious activity detection.
The software closely monitors and records all emails including attachments even when the email has been deleted by the sender or receiver. InterGuard assists by notifying and providing timely alerts whenever an unusual email activity or behavior is indicated by any employee. Possible scenarios may include a high number of email attachments being sent or an excessively high frequency of webmail activity.
Moreover, InterGuard allows you to configure different monitoring levels and policies per specific users or groups to monitor email activity at a granular level. For instance, you can set up a monitoring configuration to allow you to closely monitor the email activity of your finance team. At the same time, you can opt to not monitor webmail activities of specific teams such as the HR team.
You can set up alerts for both inbound and outbound emails based on any keywords that you might want to identify as risky. Once you do that, the software detects those keywords in emails and captures screenshots for such risky emails. This feature comes in handy for protecting sensitive and crucial information being shared via emails. It also helps in preventing any workplace harassment scenarios in email communications.
3. Email Analytics:
Email Analytics is one of the most comprehensive tools used by employers to track employees' email accounts and determine email productivity and response time. The tool, however, only works with Gmail and GSuite email accounts.
Email Analytics provides you a broad eye view of the number of emails being sent and received by employees as well as the most frequently interacted sender and recipients. It also provides you an insight into each employee's productive hours with the most email activities. It's also specifically designed to help you in determining the major bottlenecks and roadblocks that are affecting your employee's email productivity. The highly visual dashboard presents an integrated view of all the email statistics and metrics that you need to design a productivity plan.
Email Analytics is massively focused upon providing data analytics related to employee email activities. The tool doesn't access or read the body content of any of your employee emails and therefore, can't be used for detecting malicious user activity. It only accesses the basic level details in an encrypted format including email timestamps, email addresses, subject lines, and header information.
4- ProofPoint Essentials:
Proofpoint Essentials is an enterprise-level email monitoring and security solution that is largely aimed at middle-sized and small-sized businesses. This tool provides ultimate control over emails and enhanced flexibility by offering top-notch security features including email filtering. Proofpoint's email monitoring solution detects and classifies different security threats such as malware, phishing emails, and spam emails by utilizing highly advanced technology and algorithms. Apart from emails, this solution also offers social media protection features.
The software performs a deep analysis of emails using its robust filter engine and automatically detects malicious attachments or URLs embedded in emails. Proofpoint's unmatched technology also protects the organization against ransomware attacks and blocks any such potential malware and threats that might lead to ransomware threats.Proofpoint also facilitates the management with an appealing summary dashboard that provides detailed insights into highlights of security attacks and actionable areas. It also maintains a list of most frequently targetted users called Very Attacked People (VAP). This can help you determine your priorities and train the people who are posing the most risk to the organization. You can also implement a set of adaptive controls targeted at your most risky users to mitigate the risks to an extent.
Is email monitoring worth it? – Final Verdict:
Email monitoring is one of the essential aspects involved in employee monitoring. The trend of shifting permanently to a remote work routine has been growing tremendously and therefore, calls for accurate and effective monitoring features.
We hope that this blog will assist you in realizing how important and effective email monitoring can turn out to be for achieving better productivity and the organization's goals. All of the above tools are regularly employed by top-tier organizations around the world for various purposes. Top use cases include protecting the company from malicious threats and also ensuring a productive remote work environment.
Addressing Remote Work Challenges with V2 Cloud:
Remote work is the new work revolution and is here to stay for a long time. Therefore, it's important that remote teams work in collaboration to boost productivity and constitute a creative remote culture. With remote work challenges continuously increasing, the trend is certain to shift towards workplace virtualization. The need for the adoption of cloud-based virtual desktop solutions has never been so emphasized before.