Top 10 Essential Enterprise Collaboration Software in 2022
August 25, 2022
08 mins 40 seconds
Author: Haziqa Sajid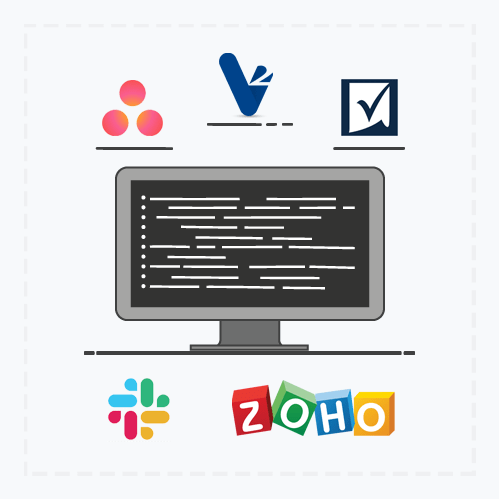 With larger teams, an enterprise must ensure efficient communication to maintain productivity. Your enterprise may need a top-notch software solution, and luckily there are tons of Enterprise Collaboration Software(ECS) options that you can select.
An enterprise collaboration brings a technology-driven communication solution to employee teams. It is software that enables users to share, manage, and process files more efficiently. So, it increases the efficiency of employees and teams working within a department and across different departments resulting in higher productivity.
Choosing the right enterprise collaboration software can be a tricky task considering there are lots of options available. So, we made it easier and simpler for you by shortlisting some of the best enterprise collaboration software that may meet your business needs.
Top 10 Essential Enterprise Collaboration Software in 2022
With our strict selection criteria and thorough research, we have shortlisted the following enterprise collaboration software:
Enterprise Collaboration Software 1: V2 Cloud – Best Cloud PC Solution
V2 Cloud Desktop as a Service (DaaS) enables small and large businesses to securely manage their applications on cloud technology. It focuses on simplicity along with performance and speed. Here you get a centralized dashboard that simplifies IT and task management.
It offers easy scalability, screen sharing, bidirectional copy-paste, white labeling, and HTTPS encryption. Simply put, you get a secure and reliable cloud-based collaboration solution for on-premise and remote teams.
The only downside is that a few integrations are not that easy to set up.
Key Features:
Price: $40 per user per month
User Ratings: 4.8 average user ratings.
Apps Available: Web, Mobile, PC, and Raspberry Pi
Enterprise Collaboration Software 2: Smartsheet – Best Automation
Smartsheet is a reliable tool for automation and managing projects and tasks related to collaborative business. Apart from having powerful features, it has endless customization options to help you configure the tool according to your business requirements.
Moreover, it supports automation for taking inputs from web forms, proofing them, and approving them. Users can easily automate their workflow and import or collect information they need for their projects. It has a variety of templates that you can select depending on the type of work you are doing.
One of its cons is that the pages here do not update in real time.
Key Features:
Enterprise Collaboration Software 3: Asana – Best Workflow Management
Asana is collaboration software for better productivity and management as it helps to track all types of work, including tasks, projects, and workflow. Various templates and in-app features make it easier to set up and use this tool. It allows recording video messages integrated with work-related tasks.
With a desktop app, you can easily use it anywhere you want. With video messaging, you can share or record information that you can conveniently show to your teammates and avoid arranging lengthy meetings. If you need to further merge your workspace data, you can set up Asana to BigQuery integration and use it to build developed reports and calculations.
One of its major cons is that it is not a good option for graphics-intensive workflow management
Key Features:
Enterprise Collaboration Software 4: Miro – Best Whiteboard Collaboration
Miro works like a whiteboard of collaboration software. It provides you with an online platform you can fill with the tools and functionalities of your choice. Thus, the collaboration platform you create is a perfect fit for your requirements. It makes collaboration more straightforward with a user-friendly interface.
Miro packs many features and presentation tools and allows integrations to bring additional features into one software.
On the downside, the offline functionality is limited here.
Key Features:
Enterprise Collaboration Software 5: Slack – Best Integrations
Slack is a team messaging application that offers attractive project management and organizing features. It is your best choice if you need to add more features from other apps, platforms, and services. Slack is a good choice for teams of all sizes, and its scalability in the online space is an additional benefit.
Slack allows every user to customize things per their requirement which means every employee/team member will be equally efficient with their task.
The only disadvantage is that it is a bit more expensive than most enterprise messaging and collaboration apps.
Key Features:
Enterprise Collaboration Software 6: Zoho Projects – Best Small Project Management
Zoho Projects focuses on small projects and small teams as its plans start with up to 3 users for a free plan and up to 50 users for the premium plan. A user-friendly interface makes it easy to set up and navigate with various features. Zoho Projects offers in-depth configuration options to manage advanced workflows. Moreover, your team will never miss any deadline with its strong time tracking features.
One of its biggest downsides is that it has no pre-built templates.
Key Features:
Enterprise Collaboration Software 7: Teamwork – Best Project management
Teamwork eases general project management for small and medium-sized teams, from platform customization to billing and invoicing. It offers a rather simple experience without many bells and whistles making it easier to get along.
It offers 100GB of cloud storage with its advantages to paid users, while the free version only allocates 100MB of cloud storage. With its paid version, you can manage up to 300 projects simultaneously.
The only drawback is that there are no image or PDF markup tools.
Key Features:
Enterprise Collaboration Software 8: LiquidPlanner – Best Resource Management
LiquidPlanner brings dynamic and automatic scheduling for individuals and the whole team. It offers insight tools with rich management and tracking tools in its business pricing plans. Thus, it helps with workload balancing.
Automation functions are one of the best features of LiquidPlanner, which is lacking in most enterprise collaboration software. Simply put, it is the best tool if your business needs automatic scheduling.
On the downside, the learning curve and time to set up are long.
Key Features:
Enterprise Collaboration Software 9: Airtable – Best Database Driven Collaboration
Airtable helps your team collaborate and manage information as database-driven collaboration software. It uses a relational database, and any user with minimum knowledge about it can use it. Airtable offers top-notch enterprise collaboration support and supports integration with a lot of services.
It helps with task management and event planning, so you never miss anything. The intuitive interface is versatile, and users can customize it per requirements.
On the downside, there are some limitations if you want to customize graphs and charts.
Key Features:
Enterprise Collaboration Software 10: Trello – Best Customizability
Enterprise collaboration software must change according to your needs, and Trello brings that. It lets you customize boards in the interface for maximum productivity. Trello's intuitive user interface provides a simple collaboration tool for managing and organizing simple tasks.
You can connect Trello with different Chrome extensions for added functionality. The real-time timeline view (similar to the Gantt chart) helps track tasks for better management.
On the downside, some simple features here require add-ons.
Key Features:

How to Select an Enterprise Collaboration Software
With so many options, it will surely not be easy for you to select one of these. It is never a good idea to select the first option you see, the cheapest one, or the software that looks the most attractive. The best collaboration software for you is the one that meets your requirements in the best way. Discussed below are some important factors to keep track of when selecting the collaboration software for your enterprise.
File Sharing
File sharing and document management from the collaboration software should make things easy. The collaboration software must help in sharing different file formats in real-time. Having notification also makes your employees more productive.
Event Tracking and Management
A robust enterprise collaboration software must make tracking of tasks, events, and meetings easier. A good ECS will provide individual and group calendars to help track everything.
Task Management
Collaboration software's task management features help monitor and manage all tasks assigned on one screen. With efficient task management, your employees will never miss a deadline.
Communication
Communication must be made easier for your employees working in the same and different departments. They must not need any other mode of communication when they use the collaboration software.
Additionally, good collaboration software will make it flexible for employees so they can work remotely for more effectiveness. This feature depends more on your enterprise requirements.
Pricing
It is essential to consider the price of enterprise collaboration software. It varies between different software and plans. However, it must not be the dealmaker or deal-breaker for you.
Team Size
Consider your team size and select the enterprise collaboration tool accordingly. This way, your selected software will not be underpowered or overkill for your needs.
Security
Security is among the most important things when selecting a collaboration platform. The data of your company and the employees must be safe with the software. Having control over the data your enterprise collaboration software should read or store is essential. Also, consider on-premises and cloud-based hardware to guarantee data integrity.
Document Searching
Collaboration software with powerful search features will help employees find old files. Thus, they will not be wasting a lot of time on unnecessary things.
Lastly, you need to take a look at the user reviews present on the website as well as on other review platforms. It will be a great way to judge if you are getting good value from that software or not. Setting goals and selecting your platform will always leave you with the best enterprise collaboration software.
Wrapping Things Up!
Every enterprise collaboration software that we discussed here provides reliable services. So, deciding which one to use and which one to skip can be a tricky decision. While each ECS brings its top-notch services for you, each one of the options above may not be a perfect fit for your business requirements. As said earlier, set your requirements and choose the collaboration enterprise software accordingly.
Make sure to consider all the important qualities of enterprise collaboration software, including user reviews, and go for a reasonably priced option.
V2 Cloud: Your Best Cloud-Based PC solution
If you are looking for enterprise collaboration software, consider using V2 Cloud for a top-tier experience. We provide excellent security features along with a user-friendly interface. So, everything from deployment to usability becomes super easy. You get the top-tier experience while staying under your $40 monthly budget. On top of all, you do not have to worry about any issues as our customer service never leaves any query unanswered. So, book your demo. today!