Hosted QuickBooks vs. QuickBooks Online – 5 Key Differences
Mar 8, 2023
04 mins 48 seconds
Author: Haziqa Sajid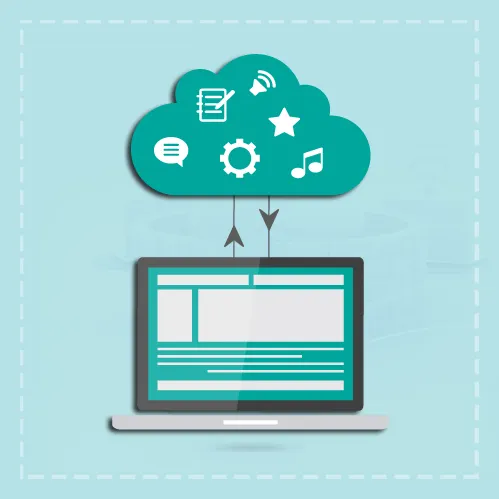 QuickBooks is an accounting software introduced by Intuit to manage business ledgers, expenses, and payrolls. It currently holds 80% of the market share, which reflects its significance as a dominant player in its niche market. Intuit offers on-premise and cloud versions of QuickBooks, namely Quickbooks desktop with more extensive features and Quickbooks online with limited features but seamless accessibility.
If you are looking for a QuickBooks solution that offers all the features of QuickBooks Desktop and enables collaboration like QuickBooks Online, there is a solution. With the rise of cloud methodologies, businesses can now host the desktop versions of their desired software products on the cloud. To this end, knowing the difference between Hosted QuickBooks and QuickBooks Online helps to make an informed decision.
People often confuse Hosted QuickBooks vs. QuickBooks Online and use both terms alternatively. But this is not the case. This blog post will help you discover the key differences between QuickBooks Online vs. hosted to make the right decision for your business needs. Let's discuss this in detail.
QuickBooks Online – Explained
QuickBooks Online is a cloud-native accounting and financial management solution introduced by Intuit. Apart from QuickBooks Online, Intuit also offers a QuickBooks Desktop solution with efficient accounting and finance management features, tools, reporting dashboards, integrations, and utilities. But it comes with limited accessibility and a lack of collaboration among remote teams. Whereas QuickBooks Online allows seamless collaboration and remote access to the cloud-native version of QuickBooks Desktop. But despite offering a range of features like invoicing, billing, ledgers, inventory management, etc., QuickBooks Online lacks the high-end features and performance you can expect from the desktop version.
Hosted QuickBooks – Explained
If you want to leverage the rich features of QuickBooks Desktop but also need seamless collaboration and remote access simultaneously, instead of installing QuickBooks Desktop on your desktop or laptop PC, you can deploy and run QuickBooks Desktop on the cloud. A cloud service provider like V2 cloud can provision applications to remote users anywhere, anytime, and on any device. By QuickBooks hosting on the cloud, your remote employees can seamlessly access all the features of QuickBooks Desktop on various devices at any time.
The industry-specific features of QuickBooks Desktop address dynamic requirements of different workflows like inventory management that vary from industry to industry. QuickBooks virtual desktop hosting offers robust and unique features tailored to the changing requirements of retail, services industry, NGOs, Industrial manufacturing, wholesale, general trading, etc. This capability is missing in QuickBooks Online.
Hosted QuickBooks vs. QuickBooks Online – Differences Explained
If we compare hosted QuickBooks vs. QuickBooks online, there is a range of differences from deployment and accessibility to the cost of ownership. Below are the 5 key differences between QuickBooks Online vs. hosted that help you choose the right solution per your requirements.
Deployment
QuickBooks Online is a managed cloud service offered by the developers of QuickBooks, Inuit, with limited features and quite a different interface. Inuit also offers QuickBooks Desktop, but it's not a cloud solution. An alternate approach is QuickBooks Desktop hosting which integrates the best of two worlds – QuickBooks Online (in terms of accessibility) and QuickBooks Desktop (in terms of industry-specific features). In hosted QuickBooks, you install a QuickBooks Desktop on a cloud server instead of a local computer and deliver it to the end user via virtual desktop provisioning.
Accessibility
With QuickBooks Online, businesses can manage their finances and accounting operations on the go with real-time updates and streamlined processes. Users can access QuickBooks Online from a web or mobile device. But again, it lacks some high-end features such as job costings, calculating discounts, and advanced inventory management & reporting tools compared to its more comprehensive desktop alternative.
On the other hand, QuickBooks Hosting takes a different approach by providing remote access to the desktop version of QuickBooks. Users can work with the desktop solution's familiar interface without device, time, or location limitations. It offers higher flexibility and accessibility with all industry-specific and broadscale features of cloud-based accounting.
Features & Practicality
QuickBooks Cloud Hosting offers a robust approach to enable complete customization of the QuickBooks Desktop software for businesses looking for maximum control and flexibility in managing their financial affairs. This option provides a range of high-end features and utilities for job costing and inventory management that can be customized to address the specific needs of any business or industry segment. Unlike QuickBooks Online, which has a limited set of features, QuickBooks Hosting offers businesses the ability to craft custom reports and integrate with other business-critical applications.
Performance
QuickBooks Hosting delivers top-notch performance by leveraging a mission-critical network to host complex, heavy desktop apps and softwares. Cloud provisioning also involves dedicated computing power, RAM, and scalable storage to ensure optimal software performance. QuickBooks virtual desktop comes with dedicated resources assigned to each user. Instead of the resource-sharing model, which compromises the system responsiveness and even service downtimes, QuickBooks hosting leverages dedicated resource allocation. It makes QuickBooks hosting a more robust and reliable accounting solution, unlike QuickBooks Online. High demand for the service often comes with unavailability, connection issues, and downtimes for QuickBooks Online users.
Price
Another primary difference between QuickBooks Online vs. hosted is their pricing and value for money. If you choose a secure and reliable cloud services provider like V2 cloud, the QuickBooks cloud hosting pricing covers technical support and dedicated resource allocation for each QuickBooks user. The overall cost of a QuickBooks virtual desktop depends on the number of users and allocated resources. Whereas QuickBooks Online has a monthly subscription package but lacks high-end and industry-specific features and incorporates compromised performance. Still, the cost may vary significantly depending on the add-on services like full-scale payroll and additional charges for multiple company profiles.
Why Choose V2 Cloud for QuickBooks Desktop Hosting?
When choosing between hosted QuickBooks vs. QuickBooks online, Hosted QuickBooks Desktop solution is the clear winner regarding accessibility, performance, practicality, and long-term cost efficiency. Remember that in hosted QuickBooks, security and reliability are of utmost concern. If you choose V2 cloud for QuickBooks hosting, you can leverage the industry-leading cloud service that offers maximum reliability with an impressive service uptime of over 99.95%. Cloud Security is our central point of attention, and we offer proactive monitoring, multi-factor authentication, and single sign-on to ensure strict compliance with industry standards for security. Moreover, our daily backups ensure that your sensitive financial and accounting data remains secured and protected. Explore V2 Cloud and choose the exemplary cloud service that assures your QuickBooks are always available, accessible, and protected against security vulnerabilities.