How Will Virtualization Transform Your Business In 2022?
May 11 , 2022
08 mins 18 seconds
Author: Aurangzeb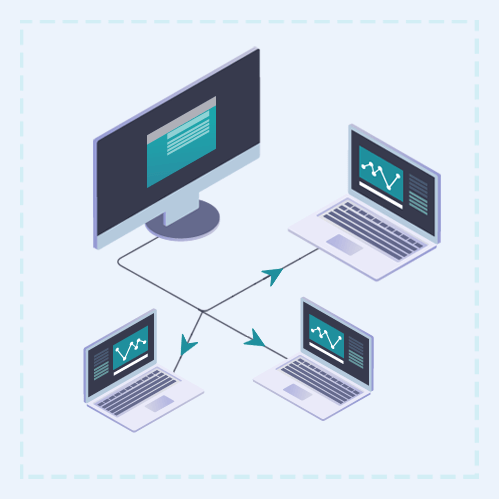 By virtualizing a computer system, you create a layer that abstracts the actual physical hardware from the software. Usually, it refers to running multiple operating systems simultaneously on the same computer system. Applications running on top of the virtual machine can appear to be running on their dedicated system, complete with the operating system, libraries, and other programs unrelated to the host operating system below it. Virtualization in computing is used for many different reasons.
A desktop user's most common use of an emulator is to run applications designed for different operating systems without changing computers or rebooting. Administrators of server systems can also use virtualization to run different operating systems on the same computer. But perhaps what they value most is the ability to segment an extensive system into many smaller parts, allowing multiple users with different needs to use the server more efficiently. It also ensures isolation, making it possible to keep processes running inside a virtual machine separate from those running inside another virtual machine on the same host.
Virtualization as a Business Case
Virtualization is being used more and more by small to midsize businesses to reduce capital expenses, improve business continuity, and improve responsiveness. Small and midsize businesses face fiscal challenges in this challenging economic environment. Returns on investments in IT are getting more difficult to calculate. HOWEVER, certain IT investments offer the chance to reduce costs, increase productivity, and improve business continuity. Virtualization is one such investment.
Moreover, virtualization can enhance your company's flexibility, agility, and responsiveness to economic changes and business opportunities beyond reductions in expenses and resource requirements. With the proper use of technology, businesses can react to the needs of customers and partners and remain ahead of the competition. Similarly, the IT department can become more responsive to business requirements, drive new business initiatives rather than simply assisting existing ones, and become a less cost-efficient unit.
Ways in Which Virtualization Is Transforming Businesses
Virtualization is the technology that allows a virtualized environment to be accessed by a user. A virtualized environment might involve using resources that are not necessarily present physically around the user but may be provided in the virtual form. Both customers and hosting providers benefit from virtualization.
Virtualization in data centers enables hosting providers that provide dedicated, shared, colocation, or cloud services to save revenue, space, and power by hosting the servers in the data centers. There are the following ways through which virtualization transforms the business:
Space Optimization
Businesses and hosting providers can optimize their physical space by utilizing virtualization. The number of physical servers required is reduced substantially since hosting providers can divide a server into several Virtual Machines (VMs) that individual businesses can access.
For example, two businesses that rely on two physical servers but only use half their resources can share a single physical server, reducing the number of physical servers by half by virtualization. Therefore, if you own a data center, it is possible to add more servers to the same physical space and expand your business even further.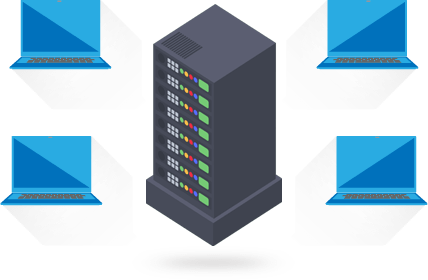 Flexibility in Operation
Business operations can be more flexible with virtualization. The servers can run multiple operating systems and applications since the software is separate from the hardware. Virtual machines can host business processes, and each machine can have its operating system and applications. Since each VM is an independent server, each customer can configure it according to their specific business requirements. The application virtualization technology also allows you to replicate the applications installed on one virtual machine to all virtual machines in minutes.
In a traditional deployment, the server is bound to the operating system and vice versa. Virtualization, however, involves first installing a hypervisor on the server and then creating VMs with it. Therefore, the number of operating systems can be as numerous as the number of virtual machines.
Scalability
Cloud-based virtualization offers businesses a highly scalable solution when used with virtualization. Virtualization is an essential component of the cloud, even though it encompasses many technologies. Clusters of servers can operate in sync in a cloud environment, with their resources pooled together. Several virtual machines can be hosted on the same server, each with its specifications. It is generally necessary to replace the server hardware when running an application on the physical server and utilizing all the resources. Due to the virtual nature of the VMs, upgrades can almost instantly be performed.
Why Virtualize?
The "one server, one application" model, can be abolished by using virtualization, which was inefficient because most servers were underutilized. One server can become many "virtual machines" using virtualization, each running on a different operating system such as Windows, Linux, or Apache. Virtualization has been able to consolidate multiple servers onto fewer physical devices; as a result, thereby reducing the need for space, power, and administration for companies.
Virtualization has other advantages as well. Companies can achieve continuous application availability and automated disaster recovery across numerous locations by using it for business continuity and complete data protection. Businesses benefit from virtualization through the simplified backup and recovery of systems and data and an increased level of efficiency and flexibility. IT becomes a department that fosters innovation through these benefits. Disaster recovery is also made easier with virtualization because businesses can repurpose existing servers for disaster recovery rather than having to purchase duplicates.
A few numbers…
Businesses with more than 100 computers have adopted virtualization, and smaller businesses, those with fewer than 100 computers, are following quickly.
According to a fall 2009 VMware survey of 309 senior business and IT managers at small and midsize companies, analysts anticipate that the adoption of virtualization among small and midsize businesses will increase two times in the next 24 months.
The study found that 34 percent of companies allocate budgets to virtualization and plan to deploy the technology within a year, while 17 percent do not allocate budgets. A Forrester® Research survey of North American and European enterprise organizations and small and midsize firms in 2009 indicated that businesses already virtualized should continue expanding. In enterprises and small businesses, 53 percent and 33 percent are looking to increase their x86 server virtualization implementations.
It's easy to understand why virtualization is so popular. The number of servers can be reduced by consolidating operations by which the businesses can:
Costs associated with cooling and spaces are drastically reduced.
By simplifying your IT infrastructure, you will be able to increase productivity across your organization and free up precious IT time to focus on more strategic initiatives.
Streamline your business contingency planning to reduce data loss in a natural disaster, earthquake, or another disaster.
These are some of the ways virtualization can help your business save money and improve efficiency:
How does virtualization impact businesses?

1- Reduce Costs
Time and resources can be pretty expensive for some organizations when managing IT. Your company can reduce its energy and hardware costs by virtualizing its server infrastructure.
2- Decrease in expenses
Virtualization lowers the cost of server infrastructure most significantly. As energy costs rise and global warming concerns rise, businesses are concerned about power consumption. You can reduce power consumption from 5 to 15 percent by virtualizing. In addition to reducing energy costs, virtualization can also reduce a company's carbon footprint.
3- Consolidate hardware
If your business uses a separate server for each application, merging multiple applications onto a single server will save you money and help eliminate the need for multiple servers. As a result, hardware and maintenance costs can be reduced by 50%.
4- Ensure business continuity and efficiency
Virtualization benefits go beyond cost reduction, such as improving staff productivity, disaster recovery, and business continuity. Furthermore, IT can focus on more strategic projects, which can help get critical products and services to market as quickly as possible, which will enable your business to remain competitive.
5- Productivity can be improved
You will be able to use applications more quickly since IT employees will no longer have to order and set up new servers for each new application. Their time can be used to develop new products or improve customer service when there are fewer technical issues to manage. A survey of small to midsize businesses has shown that 73 percent of them report reduced time spent on routine administrative tasks due to virtualization.
6- Prevent downtime and disasters for your business
Smaller organizations lack the resources and expertise required to implement traditional business continuity solutions. Data and application workloads can be backed up and recovered quickly and easily through virtualization. In addition, it permits faster switching to a secondary site and faster recovery of critical business operations.
7- Improve the responsiveness of the business
The ability to manage a virtual infrastructure provides IT professionals with the flexibility in their systems and applications to meet ever-changing business needs, giving them more time to focus on strategic initiatives. It can help improve response time and drive new business initiatives instead of being viewed as a cost line item.
8- Keeping company assets safe
Business organizations are securing data rather than hardware, regardless of where it is located on the network. It is possible to apply security patches to virtual machines using virtualization and move applications between them without experiencing downtime due to virtualization. As virtual machines reduce the number of servers in your business, they also make it less vulnerable to security threats.
What is the best type of virtualization for your business?
Virtualization technology has evolved to become an integral part of our everyday lives. Virtualization of desktops has been observed to offer many benefits to a business, but it also has some disadvantages. For that reason, organizations should know their goals and objectives before choosing which technology to implement, either as a way of reducing costs, making system administration more accessible, enabling user flexibility, or following trends and staying current.
Want to learn more about virtual desktops? Read this article to learn more about the benefits for your business.