How to Start a Successful Remote Team with V2 Cloud
April 30th, 2021
01 mins 33 seconds
Author: Gabriel Bujold
Starting a remote team from scratch can represent a lot of moving parts in your company. And if you never moved to the Cloud before, prepare yourself to be swamped with all the research needed.
That's why we decided to write a comprehensive guide to migrate your business to the Cloud and make your remote team thrive. This guide is for you if:
You don't have time to read every tutorial individually.
You're unsure where to start with V2 Cloud.
You want to understand which pricing would be best for you.
You want a template to build a successful remote team.
You want actionable tips to share company data on the Cloud.
You want to shed the light on complicated IT terms.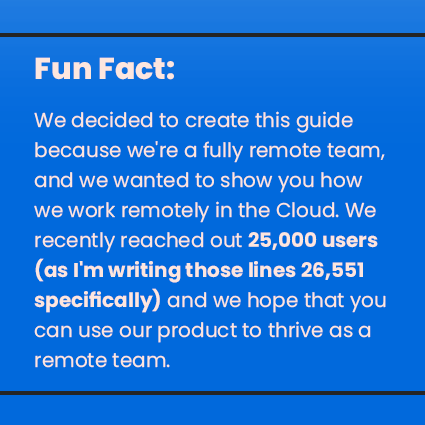 By using our guide, you can move around to find the right answers to your questions or simply read it thoroughly (we worked hard on it). You can find the following chapters on it:
About Migrating to the Cloud.
IT Terms Glossary
Individual Desktop
Team Desktop
How to Choose Which Desktops?
Where to Build Cloud Desktops?
Business Plan Blueprints.
How to Manage Shared Folders?
Do You Need an Active Directory?
Which Active Directory to Choose?
Step-by-step Plan.
Contact Information.
That's pretty much everything I can write as an introduction to this guide. If you read until here, the only remaining step is to download it.
How to Start a Successful Remote Team with V2 Cloud
Oh, and if you have any questions, you can reach us out easily via chat, email, or phone. Cheers and happy reading!