How To Use Cloud Computing To Empower Your Offshore Teams
Jan 21, 2021
09 mins 03 seconds
Author: Davis Porter
"How can I use cloud computing to work with my offshore teams?"
Does that sound familiar? Well, as it turns out, this is quite a common concern in the tech world. So much so that even tech executives are increasingly seeking tips for using cloud computing on offshore teams, especially when it comes to software development.
The thing is, on one hand, companies are exceedingly embracing offshore development. 65% of executives who were surveyed by Deloitte reported that they were planning to build offshore software development teams– with enterprise mobility, business processes, big data, plus cloud computing being their principal focus areas.
And speaking of which, it just so happens that on the other hand, 83% of enterprise workloads will predictably be in the cloud by the end of 2020. Most of them (41%) are deploying on public platforms, while hybrid is taking up 22%, and private cloud platforms are dragging slightly behind at 20%.
In a nutshell, you could say it's certainly an exciting time for both cloud computing and offshore software development.
But then again, that raises the question- how exactly can you leverage both at the same time? Or rather, is it really easy to integrate cloud computing when you're working with remote teams?
This article gives you all the answers after evaluating the core parameters that come into play while managing offshore teams.
More specifically, it explores not only the primary types of offshore teams but also the advantages as well as the challenges of remote working. Then to top it all off, it shows you how you can solve some of the common problems using cloud computing.
Now, having said that, let's start our journey from the top– what exactly is an offshore team and what should you expect after hiring one?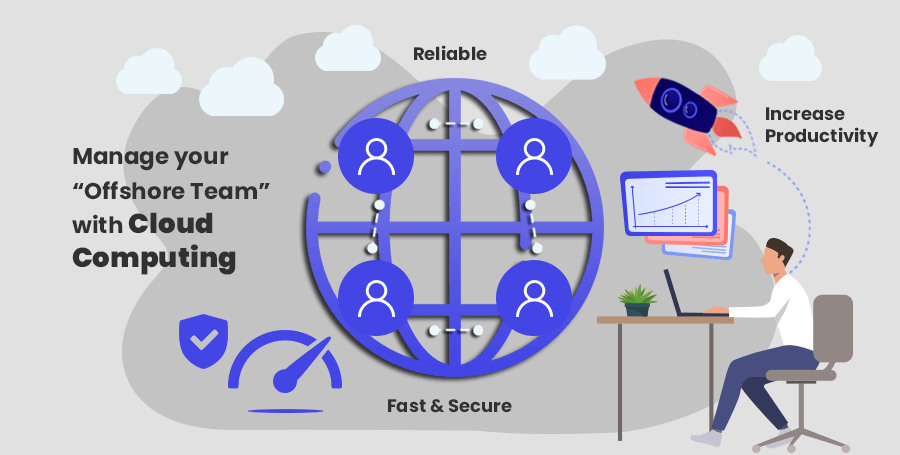 Offshore Team Overview
What Is An Offshore Team?
Now, make no mistake about it. While offshore teams can handle outsourced tasks, there's a distinct difference between hiring an offshore team and outsourcing your operations.
Offshore teams are simply groups of workers that serve remotely from other countries.
They are not external entities though. Rather, you can think of them as regular employees who work alongside their in-house counterparts. The only difference is, in-house teams operate directly from within the company, while offshore teams are entirely based in foreign countries.
It's worth noting, however, that the management system you'll apply in the meantime depends on the specific type of offshore team you choose to work with.
Types Of Offshore Teams
While there are many ways of classifying offshore development teams, the tech industry primarily categorizes them based on their overall project service model.
And when it comes to that, there are three major types of offshore teams:
.

Staff Augmentation Offshore Teams
These are the remote developers you hire to supplement the efforts of your local in-house teams. As such, your in-house developers are the overall technical leaders of the project, while the augmented offshore teams teams handle minor tasks such as prototyping, testing, and some of the basic routine operations.
.

Project-Based Offshore Teams
Unlike augmented workers, project-based offshore teams handle entire development projects. But, not on a regular basis. Rather, such remote workers are mostly engaged in one-off short-term pilot projects, which typically come with defined requirements and timeframes.
.

Offshore Development Centers
This model fundamentally operates almost like a permanent in-house department. The offshore remote dedicated development team are hired as dedicated experts, who then proceed to handle large scale projects for the long haul.
All in all, whichever system you choose to implement, there are many benefits you can expect with the offshore teams.
Advantages Of An Offshore Team
.

Cost-Effectiveness

Hiring and managing offshore teams can be cheaper than working with locally based employees depending on the country. For example, it would be more expensive working with locals in the USA.
.

Less Technical Requirements

You don't have to worry about purchasing and maintaining the computing resources locally. The bulk of the infrastructure and the accompanying applications are handled by service providers.
.

Great Flexibility

It's considerably easy to restructure and resize offshore teams, as well as the corresponding cloud resources. You can conveniently expand or downsize them, depending on the dynamic variables of your project.
.

Extensive Pool of Talents

While local hires limit you to the domestically– available talents, offshore working models allow you to capitalize on a much broader skill pool. You can literally bring in brilliant developers from other continents who can provide you or your partners with excellent custom development services.
.

Fast-Delivery

Offshore teams are known to achieve project deliverables fairly quickly since they are often guided by predefined parameters and timelines. Additionally, it also takes comparatively less time to hire and deploy them.
Issues With Offshore And How They Can Be Solved With Cloud Computing
Unfortunately, offshore teams happen to be accompanied by their fair share of issues. And, as it turns out, some of the challenges in the field of software development can even be potentially detrimental.
But, get this– it's not all doom and gloom. At least there are several effective mitigation remedies you could employ. And, to sum it all up, the overall trick here entails introducing cloud computing into the mix.
However, while you're at it, please note that you don't have to search far and wide. Don't be tempted to rush for advanced enterprise-level cloud services that offer intricately– complicated architectures. Instead, you might want to start off with the basics.
Leveraging something as simple and straightforward as Desktop-as-a-Service will considerably help you mitigate issues such as:
.
Confidentiality & Security Risks
When you engage offshore development teams, you'll be expected to share sensitive bits of information like ideas, concepts, and code. Sadly though, we've heard of cases where offshore teams have leaked such valuable data to third parties.
And that's not all. Even more shocking is the fact that some offshore workers don't actually do it voluntarily. Instead, their PCs are infiltrated by hackers, who then manage to steal critical data. Already, it's been revealed that data breaches exposed 4.1 billion records in the first half of 2019.
"Ok, but how do you avoid that?"
Well, you could start by enforcing non-disclosure agreements to prevent leakages using virtual rooms for data storage security. Then in the meantime, use cloud computing to centralize data control and securely manage access privileges.
.
Computing Hardware & Resources
By now, it's common for offshore development teams to rely on their own computing hardware and resources as it's a logistical nightmare to ship high-end resources overseas to your employees.
While this admittedly translates to some cost savings on your side, it could also negatively impact your overall development efficiency. For example, how much RAM will your development team use on average and will their equipment be enough to support your company's needs?
The whole thing makes it difficult to manage and streamline remote operations, especially when you're working with large offshore teams.
That said, such an issue can be solved by bringing everyone together on a shared cloud computing platform. This allows you to not only streamline the development operations, but also empower your remote workers with well-optimized cloud computing resources.
.
Applications & Network Access
Ever wondered how offshore teams communicate?
The fact is, quality control can also be difficult when offshore teams fail to communicate and collaborate effectively with other entities in your company. You might, for instance, find remote developers working independently without linking accordingly with their corresponding in-house project leaders.
Now, the solution to such a problem is, of course, providing a centralized computing system, complete with a remotely-linked network that offers shared resources and applications like Slack, Microsoft Teams.
A VPN is also a great tool to use for remote teams. VPNs let employees securely access their network as your team may be in situations where the available Wi-Fi is untrustworthy. Remote workers may also need to access sites that their location is restraining them.
The Advantages of Cloud Computing When Working With Offshore Teams
So far, we've touched on a couple of issues where cloud computing ultimately comes in handy. Therefore, I guess that by now, you should have a good idea of how cloud computing fits in with offshore teams.
But, make no mistake about it. The benefits of cloud computing don't end there. If you dig deeper, you also discover that cloud computing offers:
.

Faster Deployment

Standard cloud-based solutions come with ready-made technologies that have been optimized specifically for enterprise-level processes. Hence, deployment should be as easy as signing up for the service and registering your team members' user accounts.
.

Usage-Based Pricing

While cloud computing solutions use varying pricing models, there's this one rule that applies across the board. The final bill is always based on the specific resources contained in your package. That means you'll be paying for only what you use and nothing more.

This, over the long haul, cumulatively translates to huge cost savings for both the company plus its offshore workers.
.

Low Financial Risk

As we've mentioned, cloud computing offers great flexibility combined with favorably low deployment and operating expenses. You don't have to bother equipping each professional with a separate set of hardware and software resources. As long as you choose a comprehensive cloud computing system, you're bound to get all that at a fraction of the cost

What's more, you'll even get away with administrative expenses such as office rent. A solid cloud computing platform allows your offshore teams to work seamlessly from anywhere, as well as collaborate extensively across various applications.
.

Easy Upgrades

As you continue hosting your offshore teams on your cloud computing platform, you should be able to harmoniously upscale its resources when the need arises.

In other words, you won't be subjected to technicalities like system reviews, software reprogramming, and hardware purchases. You just need to upgrade your usage package and voila! The system resources will go ahead and upscale automatically.

It's worth noting, though, that you don't always have to dig into your pockets. Some cloud computing architectures are built to automatically upscale some of their resources for free, based on your real-time processing needs.

Other than that, cloud computing makes it considerably easy to introduce additional users into your company's network as the offshore team grows.
How Can V2 Cloud Help Me?
And there you have it. No more worrying about "how can I use cloud computing to work with my offshore team". Our insights, I believe, have adequately settled the issue.
There's just one more thing we're yet to address. And that's the issue of the cloud computing service.
So, after reviewing all the intricacies surrounding offshore teams and cloud computing, which cloud service would we recommend for a company working with offshore employees?
Well, the truth is, there are many types of cloud solutions you could choose to leverage concurrently. It all depends on what you plan to achieve in the end.
However, on the specific issue of cloud computing, you might want to prioritize V2 Cloud. Our simple solution has earned a reputation in providing all sorts of remote collaborators with reasonably priced, well-optimized virtual computing resources.
In a nutshell, this is where you get to empower every single person in your offshore team with dedicated high-performance computing resources.
You can go ahead and confirm all that for yourself through our risk-free trial that runs for 7 days.

Stay updated with Uptime by V2 Cloud
A curated newsletter about the world of IT, tech and cloud computing