Top Team Tools for Best Remote Management in 2022
Feruary 17th 2022
05 mins 33 seconds
Author: Haris Khan
Project management and team collaboration are two of the most crucial aspects involved in successfully delivering a team project. These tasks become even trickier to handle when teams are working in a distributed manner. With the pandemic affecting the work culture in chaotic and drastic ways, employees are now required to become more virtually efficient and conscious.
Organizations adopted various approaches for the feasibility of their workers and to keep the process workflows continued without any complications. In such remote work scenarios, some team tools proved to be extremely beneficial in remote teams' collaboration and communication. Now in 2022, these remote collaboration tools are a compulsory element of teamwork because they maximize competence, productivity, and performance.
Project Management for Remote Teams – What's Changed?
Project management is, undoubtedly, a challenging aspect to deal with in any team project. Planning the project ahead of the implementation will highlight the problems it might have. An organized project management approach ensures synchronized task execution and effective project delivery.
The transition from working at an office to working remotely has multiple challenges. One of the major issues is the collaboration of teams throughout a project. When team members are scattered all around different remote environments, managing a project and collaborating appear as difficult milestones.
Fortunately, there is a wide variety of team collaboration and project management tools available today that can assist remote teams in each phase of the project. In this article, we will be covering the most productive and widely used team tools for remote teams!
Top Team Tools for Remote Management to Use in 2022
1. V2 Cloud – An All-in-One Solution for Remote Desktop Management
The growing trend of remote work culture has compelled organizations to eventually migrate to the cloud for better management of business operations. V2 Cloud offers an intuitive and seamless cloud infrastructure that can cater to all of your business's requirements. With V2 Cloud's secure and dedicated solutions, migration to the cloud becomes an easy-going and smooth operation.
V2 Cloud's fully integrated solution is designed with user feasibility and data security as the top priorities. Our reliable and user-friendly cloud solutions ensure that you can have leveraged control over your remote workforce. With SSH tunneling working seamlessly for each RDP session, you can work efficiently without having to worry about the security of your data.
High performance and secure RDP access enable your team to maximize its productivity. Moreover, the live chat support feature is always available to assist you at any time. With overall increased productivity and enhanced reliability to offer, V2 Cloud brings in the best desktop virtualization solution to the table for you and your remote teams!
2- Miro

Whiteboards and sticky notes are widely used in the project management phase to brainstorm, plan, and design. Ever since the pandemic, employees and management have been researching ways to convey their ideas and different management plans while working remotely. That's where Miro comes in.
Miro is an agile-friendly online team collaboration canvas that permits its users to manage and arrange stuff through sticky notes. It is a collaborative whiteboard that grants you many features and allows you to have access to coordinated brainstorming. The tool comes with numerous diverse templates to work on making it user-friendly.
You can also add various sticky notes, mindmaps, or utilize the digital markers on the board. It offers flexible collaboration features for the teammates as employees can easily create and share slideshows and presentations. Remote work becomes much more manageable with Miro as it not only provides an extraordinary digital brainstorming platform but also offers various communication options that include video chat, text messages, or mentions.
Moreover, the tool can be integrated with numerous apps and sites like Notion, Microsoft Teams, Dropbox, Gmail, Figma, and Asana.
3. Trello

Trello is a task and project management web app that is widely employed in different organizations because of its intuitive and user-friendly capabilities. It is a project management team tool that facilitates the users with boards to collaborate, design, resolve, and arrange their projects with their teams.
Trello offers its users customized board creation which means you can build your board from scratch and add as many tasks as you'd like. You can add images and attachments to the board and create to-do lists and checklists for the tasks. This helps significantly in keeping track of the workflow. The tasks can be color-coded and have deadlines. Trello boards can be connected with Jira, Gmail, Slack, GitHub, Google Drive, Notion, and many other apps and sites.
Trello is the perfect choice for remote teams that require a robust and organized tool that will assist in improving their overall productivity. The tool delivers all the features required for project and task management gathered up in one place. The best part about Trello is that it offers a free version as well. You can create a board according to your team's needs and invite the members to collaborate and work on it.
4. Wrike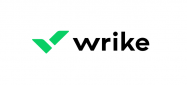 Wrike is another impressive team tool for work and project management mostly used by remote teams. If you want a tool that can be customized according to your needs, then Wrike is definitely the best option to explore. It is available to download for Android, Windows, Mac, and iOS.
Wrike offers more adaptability and flexibility as compared to other project management tools. Its dashboard can be customized according to your requirements or you can also modify it as per your team's needs. Apart from the intuitive dashboard, the amazing features of Wrike include Gantt charts and request forms that can be prepared according to customers' demands.
You don't have to worry about any data breaches or leaks as the tool offers standard encryption for all the information. Wrike provides the best enterprise project management by giving you the options to share documents, track progress, and post assets. Wrike can be linked with Jira, Outlook, Slack and Dropbox. The tool also offers a free plan to use.
5. Basecamp
Basecamp is a collaborative application specially developed for remote working environments. Using BaseCamp, team members can communicate and collaborate on project items smoothly. It is available on the web as well as on the Google Play Store and Apple App Store.
Basecamp stands out from other project management tools because it has been in the market even before remote project management was a regularly adapted practice. You can create separate boards for projects and plan each project feasibly. There is also an all-notification panel that keeps track of your activities. The tool helps in keeping you organized by creating a proper work calendar that will schedule all your work. Moreover, you can also set maximum work hours so that you do not burn out.
You can upload documents and important files to the board as it also offers storage. And to keep it professional, you can also custom built your workspace by adding the company logo. Basecamp can be integrated into multiple other applications like Zapier, Pleexy, Project Buddy, Timely and many others. The free version of Basecamp is called Basecamp Personal and offers three projects capacity and allows up to twenty members
6- Notion
If you are looking for a team collaboration tool that offers everything within a single interface, Notion is the perfect fit for you. Notion is a full-fledged task management and roadmap management tool that lets its users organize, document, and manage their projects and notes.
You can create your workspace and collaborate and coordinate on various projects. You can add images, emojis, different heading or text styles, calendars, lists, wikis, documents, and much more. The workspace can have numerous blocks with each block being completely customized according to your team's preferences. You can set priority levels on your tasks, design spreadsheets, databases, and workflows so that the team has a description of everything while working remotely.
Notion is available as one of the most popular team tools for Android, iOS, Windows, Web, and Mac users. It can be integrated with applications like Figma, Miro, ClickUp, Basecamp, Trello, and more. Notion is free to use for individuals, however, the tool also offers paid versions with advanced features.
If you are looking for a team collaboration tool that offers everything within a single interface, Notion is the perfect fit for you. Notion is a full-fledged task management and roadmap management tool that lets its users organize, document, and manage their projects and notes.
7- nTask

A great remote team management tools that you can use as your daily tool for all of the task management and project management activities is nTask. The application allows you to track and manage all of the tasks and processes that you and your development team have going on as part of the project development process. The application is equipped with some features that allow you to make sure that all of your team members are connected and that knowledge is fully shared among every single member of the team.
These features include meeting management to make sure that your meetings and interactions among the team members are tracked and managed. The software also provides risk management and issue tracking so that you can weed out all of the risks and scope creeps that can affect your project in the future.
Some of the other features that the application provides include Time tracking, Gantt charting, Kanban boarding, Multiple integrations, Availability on multiple platforms, etc. This remote team management tool offers a free trial and a paid subscription with more premium features.
8- Teamly

Teamly is a task management tool that simplifies the process of managing your team's workflow. With an intuitive and user-friendly interface, Teamly helps you streamline your projects and keep track of your team's progress with ease.
Teamly allows users to create and assign tasks, set deadlines, and track progress, all in one place. Teamly also provides a simple way to communicate with team members and share files, making collaboration easy and efficient.
Teamly has four main features that make it an important tool for managing remote teams. Real-time chat allows team members to communicate seamlessly, while workflow and task management ensure that projects stay on track. The screen capture feature makes it easy to share knowledge and collaborate visually, and employee time tracking helps ensure productivity.
So, if you're looking for a simple and effective solution to manage your team's tasks and workflow, Teamly is a great option to consider. With its user-friendly interface and powerful features, it can help increase productivity and streamline remote team management.