Why VDI-as-a-Service Is the #1 VDI Replacement
Jan 5th, 2022
05 mins 04 seconds
Author: Denis Tumuhaise
A virtual desktop infrastructure (VDI) involves hosting desktop environments on a centralized server and deploying them only at the request of end-users. Simply put, it involves running a desktop operating system on "virtualized" hardware.
As more organizations move to the Cloud, there is an ever-increasing need for virtualization related services. This is because VDI technology is all about getting software applications to people securely, fast, and easily on whatever device they require access from.
How does VDI Technology Works?
VDI technology separates a desktop environment and its associated software applications from the physical client device used to access it. The main components of a VDI are: virtualization, a hypervisor, a connection broker, desktop pools, and application virtualization.
In a VDI, a hypervisor separates servers into virtual machines that host virtual desktops. In turn, users can access these virtual machines remotely from their devices, and any location. This means that computing and processing are done on the host server.
However, the main challenge for many organizations is typically how to integrate VDI technology into their company environments. Attempting to do in-house set-ups with a managed solution is a highly complex process and it might limit flexibility to deliver VDI capabilities that meet their needs
What is VDI-as-a-Service?
To seamlessly adopt a VDI, many in-house IT teams are required to continually deploy, maintain, and manage the VDI environment. This is a highly sophisticated task for most in-house IT teams to handle. Especially when they are handling other organization technology tasks.
To reduce this burden on businesses, cloud desktop providers like V2 Cloud offer VDI-as-a-Service (VDIaaS). With VDI as a Service, virtual desktops are offered on a subscription basis, with the VDI environment deployed in state-of-the-art data centers. Therefore, taking care of the IT tasks and processes at the backend.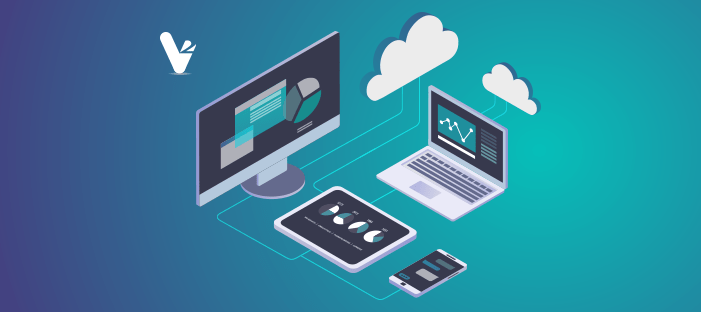 VDI-as-a-Service Vs Traditional VDI
For companies with hundreds of employees transitioning to remote work, giving them access to a secure computer and letting them operate as seamlessly as possible is highly challenging.
VDI solves this by providing access to secure, and remotely hosted virtualized desktops to all approved users, from any device.
However, to install VDI capabilities,like Azure, AWS, Citrix ,companies have to choose between a fully managed service (VDI-as-a-service) and building their own VDI farm from scratch (with the licenses and resources from a cloud provider).
While this can seem like a confusing choice, VDIaaS is the fastest and most hassle-free way to go about it. It is optimal for any quick onboarding and deployment. In addition, one doesn't need very specific configurations beyond those offered by provider-provided tools.
Furthermore, unlike traditional VDIs, VDIaaS can simplify life in a time of crisis. This is because organizations can quickly reposition their PC fleets following business indications. In essence, easily spinning up any number of virtual desktops needed, for the exact time they are required, without complicated software configuration.
Why VDI-as-a Service is the #1 VDI replacement
Despite sharing similarities with other computing models, VDIaaS offers many compelling benefits for improving manageability, performance, and security. For example:
Benefits of VDI-as-a-Service
The traditional workplace has increasingly changed beyond recognition. Especially with more companies choosing to work remotely. In order to facilitate remote work without compromising on security, VDIaaS is mission critical.
Furthermore, upgrading desktop computers is prohibitively expensive and time-consuming for many small companies. To further complicate things, waiting to get a new computer/laptop is really a long process nowadays. Yet fast paced environments depend on operational efficiency.
However, VDI-as-a-Service enables central management of all personalized desktops and even greater control over what's being installed. As a result, sensitive data is kept on the server in the data center, rather than on the end-point device.
Additional benefits are:
Easier Management
Physical desktops may have parts that need to be replaced due to malfunction, or require even periodic upgrades. As a managed service solution, VDI-as-a-service avoids such instances by handling VDI deployment, upgrades, configuration, and troubleshooting.
Enhanced Security
Traditional PC hardware is usually vulnerable to surrounding threats like employee negligence, software viruses, and power surges. VDI-as-a-Service delivers complete data protection as all data resides on remote cloud servers.
This means that even when a device is damaged or stolen, the data is still tightly secure at the backend.
24/7 Accessibility
is almost possible with traditional systems as employees can't be in the office non-stop. Especially with daily commutes, holidays, and sick days. With the VDI service, teams can maintain availability even when out of the office via any device (laptop, tablet, or smartphone). Thereby, reducing their work stress while maintaining productivity.
Affordability and Cost Reduction
Onsite IT infrastructures typically involve multiple overhead costs. For example, the cost of the hardware and accessories, like air-conditioning, cables, and power cords. Furthermore, this hardware needs to be updated regularly, or even replaced at times. Employing VDI-as-a-Service can help eliminate such overheads.
Disaster Recovery
In case of unfortunate events that can compromise the IT infrastructure of a business, VDI-as-a-Service offers mechanisms for disaster recovery. Furthermore, VDI-as-a-Service providers usually offer unlimited data storage or automated data backups on an hourly or daily basis.
Why Choose V2 Cloud as Your VDI-as-a-Service?
As a best-in-class VDI-as-a-Service provider, V2 Cloud offers businesses the simplicity, security, flexibility, and scalability required to flourish in remote working settings. As a result, enabling employees to have maximum productivity from the comfort of their homes.
In summary, here are the main reasons to choose V2 Cloud as your dedicated VDI-as-a-Service:
It provides unlimited technical support
It offers flat-rate pricing
It supports a rich, adaptive user experience
It delivers enhanced security, secures data, and simplifies compliance
It dramatically improves ROI real-time application delivery and desktop management
It offers high performance and zero downtime.
V2 Cloud's services reduce capital expenses and IT overhead costs by centralizing the desktops while minimizing the IT hassles organizations typically face. Therefore enabling them to reap the benefits of maximum productivity output from employees from the comfort of their homes.
However, if you're uncertain whether VDI-as-a-Service is right for your organization, you can book a demo with V2 Cloud and start a risk-free trial.