Why Most Small Businesses Move IT Operations To The Cloud
Feb 01, 2018
01 mins 30 seconds
Author: Gabriel Bujold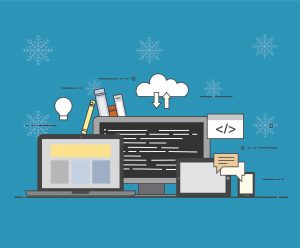 Instead of deploying an expensive on-premises virtual desktop infrastructure, SMBs are opting for a fully managed cloud WorkSpaces as a Service.
Instant high-quality desktop delivery
With V2 Cloud SMBs can securely deliver a high-quality cloud-based desktop experience with all business data and applications to their employees and consultants without having to directly touch every endpoint.
Bring Your Own Device (BYOD) Support
V2 Cloud WorkSpaces gives employees and consultants the flexibility to work from anywhere, anytime, and on any device.
Team Collaboration
Team collaboration is simplified with V2 Cloud WorkSpaces as employees have access to the tools they need to work together in the same cloud workspace.
Data Security
When users access their cloud-based desktops, a remote display protocol is used to encrypt and encode data so that only compressed images are transmitted. This way your data never leaves the WorkSpace.
Application Deployment
V2 Cloud WorkSpaces offers SMBs a fast and flexible way to deploy business desktop applications to the cloud and deliver them securely to the employees.
Bring Your Own License (BYOL)
You can now bring your existing Windows 8 and Windows 10 Desktop licenses to V2 Cloud WorkSpaces.
Render Desktop Applications in a Web Browser
With V2 Cloud WorkSpaces, your Windows desktop applications can be rendered securely to the users via a web browser.
Corporate Directory Integration
V2 Cloud WorkSpaces securely integrates with your corporate Active Directory making it very easy for you to manage your WorkSpaces without changing your existing systems management tools.
While the competition generally tries to sell you an empty shell, we provide a complete, integrated solution built for small and medium businesses. No minimum order, no complexity, no hidden fees and we provide fanatical customer support services.