ConEst Software Systems
Case Study
ConEst is a leading technology innovator of takeoff, estimating, project, and service management solutions for the electrical, low voltage, and data/telecom industries. Founded in 1989, ConEst's estimating software has fundamentally changed the way electrical, datacom, security, and fire alarm system contractors, in the US, Canada, and Australia, conduct business.
ConEst's industry experience drives the design of our software by keeping the contractor, estimator, and project manager's specific needs in the forefront by providing an industry smart and easy to use estimating solution.
The Problems
Requests from customers looking for a cloud version of ConEst's award-winning software were steadily increasing over the last few years. ConEst wanted to provide a cloud option to their customers quickly, but with other priorities on the table, the resources were not available to completely re-write the software and make it available on the cloud.
Traditional hosting was not an option. This process would require additional support resources that were not available and would not provide a seamless experience for ConEst's users. ConEst tried working with a vendor that could offer what they were looking for, but issues with testing and long-term commitments required by the vendor had ConEst looking for other options.
The Solution
After extensive research for the right fit, V2 Cloud was brought in. Mathieu Ferland, CEO of V2 Cloud, met with the ConEst team and listened to their specific requirements, and was able to check the box on all of them. After a demo for ConEst's management team and several weeks of testing from the support team, V2 Cloud was the clear winner.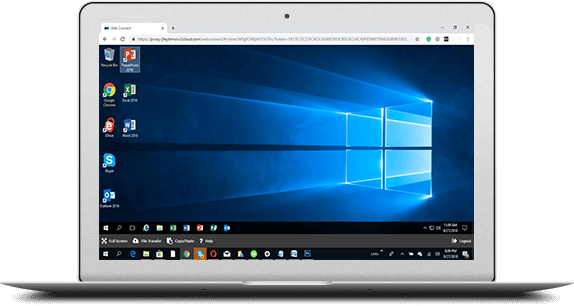 1- 75% faster
software deployment
The time saved deploying ConEst software on the cloud vs. on-premise decreased from an hour to just minutes. customers can now connect to the cloud application seamlessly.
2- Customers can access the
software anywhere
With V2 Cloud, ConEst customers can access the software in the office, from the field, or at home. There is no longer a need to be tied to a computer that the software is loaded on.
3- Improved sales process and
customer experience
Setting up a trial for a customer was a tedious process. With V2 Cloud, templates are set-up in advance, which allows the deployment of trials within several minutes and does not require any interaction from the customer.
4- Increased security and automatic
back-ups for ConEst's clients
Many of ConEst's clients lack IT Resources, with built-in anti-virus, automated back-up's, and disaster recovery. Clients can now rest assured that their data is safe and secure without the need for a dedicated IT Resource.