Cloud Computer Definition
Basic – Cloud computing
Reading Time – 1 minute, 10 seconds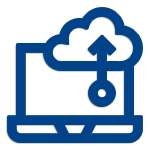 The definition of a cloud computer is simply a computer that runs software and databases and can be accessed over the Internet. Cloud computer is used for virtualization which enables sharing storage and processing power. It is also utilized for storing memory and running different software. All of these processes are functional because of a remote internet connection.
It can be hosted in a public cloud or a private cloud. In a public cloud, a third-party service provider delivers a set of services to public users over the Internet using a cloud computer. In a private cloud, the cloud computer is hosted in a private network that belongs to an organization or a company, and the services are delivered to a limited number of authorized users.
What are the uses of a cloud computer?
Now that you know the cloud computer definition, let's learn some of his uses and it's role in a cloud environment.
A cloud computer centralizes and shares computing resources such as storage, processing power, network bandwidth, and computer memory. This allows you to build and maintain a cost-effective and efficient multi-user computing environment.
It also may act as a data center to process and store data, a server that hosts and runs applications, a testing instance that executes tests, a platform to develop software or an email service provider, etc.
Cloud computers deliver on-demand computing services through the Internet and they are used as storage facilities to save and backup data.
If you're looking to experience the technology behind cloud computers, we are offering a risk-free 7-day trial. Supercharge your work computer with V2 Cloud.
Get Started Today With V2 Cloud!