Remote Workforce
Basic – Web/Development
Reading Time – 1 minute, 24 seconds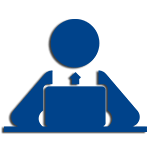 A remote workforce refers to a group of employees of an organization who provide their services by working offsite outside the traditional workspaces. The off-site employees telecommunicate from their homes to the office. Thus, creating a distributed team for their organization. This indicates that several or more people work from remote locations, even though there's no exact census on a number.
Some organizations operate remotely where all the employees work in remote locations. This approach is also known as "remote-only". Certain companies with a centralized office allow some employees to primarily work remotely. A few employees who are required to be in the office have to work in the office location. This approach is referred to as "remote first".
The employee experience outside the organization must be functionally identical to the experience within the organization. It is what makes the remote working concept more effective and functional.
Best Practices for Remote Workforce
In order to manage remote work more effectively and productively, some tips and best practices can be followed. Some of them are listed as given below;
Setting up regular check-ins – Schedule one-on-one meetings as well as team meetings to discuss their concerns, feedback and share updates on a regular basis.
Set up clear guidelines and expectations – Avoid micromanaging the employees while making them understand the expectations, work schedules, etc.
Invest in Technology – Provide the remote employees with dynamic and easy-to-use tools for sharing information, meetings, etc. Ensure that the provided tools are flexible with different devices as well.
With the use of remote work, numerous competitive benefits can be gained along with an effective service. Equal efforts should be taken for the work to be productive with great leadership and management skills.
If you're looking to manage a remote team, V2 Cloud is a fully remote company and we're sharing insightful tips each month in our newsletter.
Stay updated with Uptime by V2 Cloud
A curated newsletter about the world of IT, tech and cloud computing
Get Started Today With V2 Cloud!