Web Client
Intermediate – Computing
Reading Time – 1 minute, 19 seconds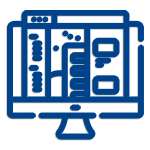 The web client is the front end or the user side of the web architecture. It can be a web browser or a web application that communicates through hypertext transfer protocol (HTTP) to format and transmit data such as documents, images, videos and audio files from a web server to the end-user.
The web client is connected to web servers through the Internet and it provides end-users the interface to interact with the web servers. It requests for data or web content through HTTP and the web server responds to the web client using the same protocol. Some of his key features are accessibility to all users, load content faster, mobile compatibility, efficient error handling, and effective navigation.
What are the examples of web clients?
These are examples that allow users to perform different tasks using the web.
The popular web browsers such as Google Chrome, Internet Explorer, Opera, Firefox and Safari are examples that allow users to access any website through the Internet.
Zoom is another example that allows users to create and join meetings and web conferences through the Internet.
3CX is another one that allows users to easily make calls, send chat messages, view the status of the colleagues and host video conferences online.
GoAnywhere MFT web client assists users to perform secure file transfers and collaborate with employees and colleagues over the Internet.
Collaborator is a web client designed for peer review tasks such as creating reviews as an author, reviewing or observing other reviewers and inspecting review materials.
Get Started Today With V2 Cloud!