What is an Active Directory?
Intermediate – Cloud Computing
Reading Time – 1 minute, 19 seconds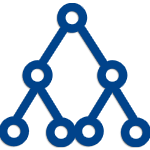 What is an Active Directory(AD)? It's a live directory or a database that comes with Windows Server to store information about all the user accounts, computers, printers, shared files and folders, security groups and respective permissions, and other hardware resources in an organization's network.
This live directory is designed to provide secure authentication for user accounts while being a more efficient, a scalable management, and a control mechanism. You can control all the objects, resources, and information in an organization or a network.
This live directory arranges all the network users, computers, and other objects into hierarchical groupings and stores all user accounts in one place instead of each computer. The information stored on AD is used to authenticate and authorize individual users and resources to the organization network. For example, If you do not have an Active Directory you will have to create a local user account in each computer in your company. Also, every time you have to reset a password for users, you will have to do it on every computer.
The advantages of using Active Directory
Highly secure – Using Active Directory, it is possible to have layers of security policies and permissions at different levels.
Easy access – The users who are located anywhere can access the domain or the network resources of the organization securely.
Highly scalable – Active Directory allows millions of users to be added to a single domain easily.
Centralized management – Active directory provides centralized storage for users and departments to easily take backups and efficiently restore data.
Efficient management – With Active Directory, the organizations can efficiently and effectively manage services because of the centralized management of services.
Get Started Today With V2 Cloud!