Become a V2 Cloud Affiliate
Partnering with V2 Cloud Affiliate Program is the perfect way to make a profit while helping businesses
work better from anywhere. Earn a commission for every paying user you're bringing to us!
Apply to Join V2 Cloud Affiliate Program.
Obtain your unique link from V2 Cloud.
Promote the link with relevant tech content.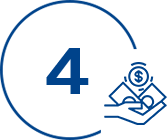 Receive monthly commissions for every paying users.
Get Your Own Cloud Infrastructure
In Minutes
Is it right for me?
V2 Cloud Affiliate Program is exactly what you need if you:
Have a significant Tech B2B audience
Show your audience how a Desktop as a Service solution can help them scale their business.
Want ongoing revenue from your content
Start getting ROI on your content by promoting V2 Cloud on article, video, emails and much more.
Want to offer our product and help customers all over the world?
Provide value and make money out of it.

Work hard to write your content, promote it to your audience, and enjoy the monthly commissions.