New Features: Storage Buckets & Extended Backups 💻
Good morning 👋. Summer is starting and we hope you're gonna get some sunlight on that beautiful skin 🌞 🏖️
But before you go lounge on that chair by the pool, we wanted to share you what we've done during the past few months: security improvements and more storage and backups options.
Alright, it is time to present our product updates list! ☕
Unlimited Storage Option: Storage Buckets 💻
Before this product update, your data could only be stored in the Cloud computer's disks, which are limited to 1TB in space and can become quite expensive at that size.
From now on, you have the ability to create Storage Buckets and attach the buckets to your Cloud computers with unlimited storage capacity 🤯
Moreover, buckets can be shared among multiple Cloud computers at the same time, they are less expensive than VM disks and you only pay for what you use ($5 for each 50GB).
You can attach any bucket as a network drive or folder to any of your Cloud computers and there are no bandwidth charges 🎉 Click here to learn how to use it.
1, 2 or 3 Weeks of Backups Retention⏱
Data security is fundamental for any business, and V2 Cloud is always focusing on security improvements for our users. In case of a disaster such as ransomware or end-user mistakenly deleting a file, your data can be recovered from a backup.
The business plan already comes with 7 days of backups included and you can now extend this to 14 days (extra $0.15/GB) or 21 days (extra $0.25/GB)
Increased Security for SSO 🔒
It is now possible to make SSO connectors allow only known users. This means the SSO connector will refuse to authenticate users that have not been previously added to a Cloud computer.
You can enable this feature by checking the Allow only known users when creating the connector.
Customize Your Hardware Resources💿
Before this new feature, there were only a few hardware plans you could choose from. From now on, you can customize the number of CPU and RAM for each of your Cloud computers. This lets you configure how much power you want for a small additional cost without having to jump to the next plan when you don't need it.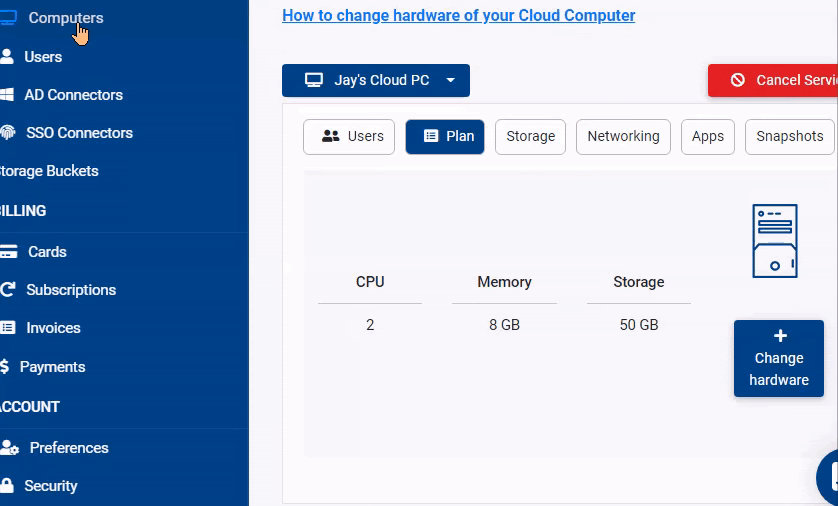 Other Updates
It is now possible to pass arguments to Remote Apps
You can now see your Cloud networks from the Networks tab in the Dashboard
You can now add users to any of your Cloud computers directly from the Users page
Many security and backend improvements
Various UI fixes
That's all for this month! Follow us on LinkedIn to stay informed about company news and updates and post your new features ideas on our product board for the next release!
Oh, and don't forget that you receive a FREE 25GB 😲 storage upgrade for each customer you refer to us using your special link!
And if you're not already part of our happy 35,000 users, start your trial today