Solution
Ransomware Data Recovery
Being hit by ransomware can do a lot of collateral damage to your business. That's why you need to be able to recover quickly. At V2 Cloud, ransomware data recovery is one of our specialties.
Every company should have an antivirus against ransomware to help prevent this kind of cyberattack.
Even though we cannot help you if you recently have been a victim of ransomware, V2 Cloud can show you the ultimate way to protect your company in the future. Therefore, you'll be able to recover your data after a ransomware attack.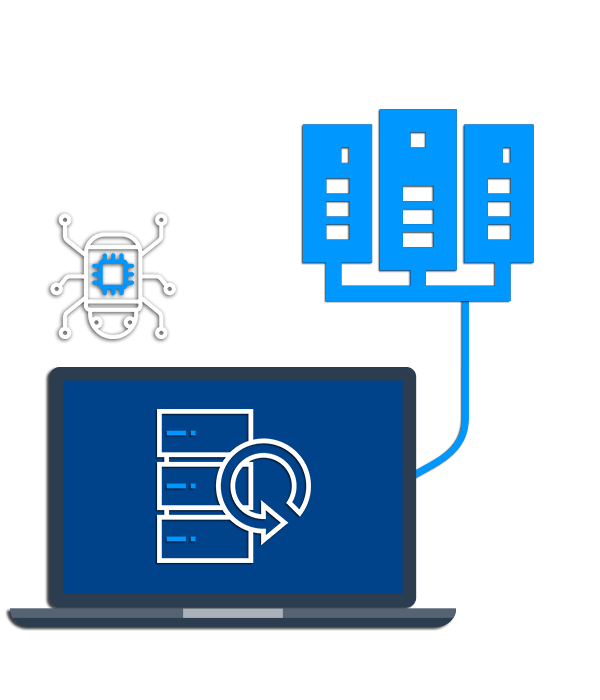 Book a quick demo with us to discover V2 Cloud.

Analyze the needs of your customers for this solution.

Receive your cloud version with a custom login page.

Profit from those new users and scale your business.
Talk with an expert to see the value of our product with your own eyes.
No Upfront Cost or Commitment You don't have to commit to us. Hop on a demo, discover V2 Cloud in a few minutes, and start paying for what you are using. And don't worry, we support every Windows published application.
No Coding Required with V2 Cloud Programming a cloud version of your windows application takes time, and it's pricey. Our product virtualizes and renders your software directly into your customer browser. No installation needed.
Simple Process and Full-Support You are only minutes away from your cloud version. Our process is simple and if you have any technical questions, our support team is ready to help you build seamless access to your software.

Automatic Backups
With our cloud computers, your data can be recovered easily and quickly in the event of a human mistake, local disaster, or cyber-attack. Get your files back in minutes.
Fanatical Technical Support
Fast email support, live online chat, and emergency phone support are at your disposal in case of a data disaster. Don't wait and let us help you.

Encrypted Data
All communications are encrypted to keep your cloud desktop protected. With our ransomware protection, your system can be restored quickly so you can return to work immediately.
Looking to protect your data? With our file system snapshot solution, you don't have to worry about malware anymore. With the click on a button, get everything backed up in a few minutes if you are a victim from a cyber-attack.
Make sure you never suffer from malware & viruses anymore. With our ransomware data recovery solution, we take daily backup snapshots of your cloud desktop to switch back your data in minutes. Ransomware attacks are now things of the past with V2 Cloud.
Application Migration Services
Your application is neat but you don't have a cloud version? Migrate it to the cloud easily.
Read more...
Windows Cloud Server
Make your cloud storage worth it. Explore now the different options of Windows cloud servers.
Read more...
Network Compliance
When dealing with digital information, you need to be network compliant. Here's how to do so.
Read more...