Solution
Freelancer Management System
A freelancer management system is a must for any company that works with freelancers. If you have a team of freelancers located across the world, manually managing everything can soon leave you with too much on your plate.
Firstly, your freelancers have different devices with different security features. Equipment failures or worse, ransomware attacks, can completely incapacitate your team. A freelancer management system can help you avoid these challenges and ensure your team always has the resources they need for work.
What is a
Freelancer Management System?
Cloud-based solution for freelance outsourcing
A freelancer management system is a suite of tools that make it easy to manage remote and dispersed teams. One such freelancer management system are cloud desktops. By requiring your freelancers to use your cloud computers, you can maintain control over your data and apps.
Keep your data in safe hands
If you do not use any freelancer management system, you may soon find it becomes impossible to manage multiple moving parts. For instance, a freelancer's computer gets stolen or has an outdated antivirus. As you scale your business with freelancers, using cloud desktops can help you keep these and other risk factors under control.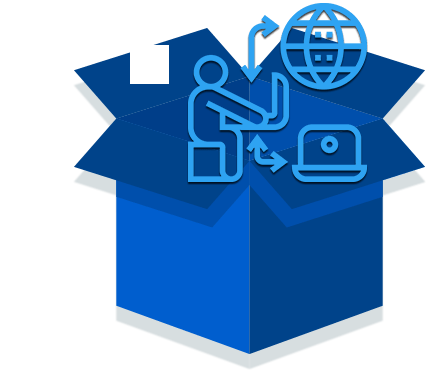 Characteristics of a
Freelancer Management System
Security
An ideal freelancer management system must have robust security features. For instance, all information passed from, and to the machine must be encrypted. The system must also ensure security for the entire team is controlled from one place. V2 Cloud offers these and many other features that will keep your remote team safe from attacks.
Flexibility
When working with freelancers, a lot can change in a short time. You might want to bring on a graphic designer who needs a machine with top specs. Or need to add apps as your business grows. The best freelancer management system gives you the flexibility you need to adjust these and other features quickly.
Scalability
Scaling physical desktops is a challenge. If you are trying to scale physical desktops that are dispersed around the world, it could quickly become a nightmare. Using cloud desktops as a freelancer management system can help you rapidly scale computer resources upwards or downwards.
Cloud-based
Cloud-based IT resources are the future of business. Since the job market is increasingly becoming digitized, using a solution like V2 Cloud can help you stay ahead of the curve. Cloud-based desktops also offer exceptional portability. It's ideal if you have team members who love to travel, you know they can easily work from anywhere, with any device and no compromise to security.

Access Control
V2 Cloud computers come with full admin control and visibility of your entire infrastructure of cloud desktops. With this feature, you can access, manage, and troubleshoot any desktop on your network without needing permissions from individual remote employees.
Global Access
Our global data centers come in handy when you need to manage talents in other countries. Our plan comes with global teleportation so you can set up and deploy your multi-users cloud desktops on any data centers worldwide.
Why V2 Cloud?
V2 Cloud makes it easy to manage freelancers. Whether your team is mixed with local or abroad freelancers, our cloud computers have all the features you need to manage your team effectively.
Unlike physical desktops that are hard to manage, cloud desktops give you admin access to all your freelancer's cloud desktops. This means you always have control over the computer resources your freelancers are using.
We're all about transparency
Effortless Freelancer Management
We monitor your freelancers' work seamlessly while you achieve results.
Team Management
Overseeing your team through V2 Cloud helps you bring all your freelancers under one virtual roof. Instead of your team using fragmented and often, disparate tools, cloud desktops ensure everyone is using the same tools and resources for work.
Software Upgrades
V2 Cloud freelancer management system helps you ensure your entire team is using the latest software. Whether it's an app or operating system, you cannot afford to have your team using different software versions or rely on individuals to keep their machines current.
App Management
Installing and uninstalling apps can be a pain if you are relying on individual freelancers to perform them. With our cloud desktops, you handle all install/uninstall processes, ensuring your freelancers have the apps they need.
License Management
Managing software licenses installed in individual freelance machines is a headache. Our cloud computers allow you to manage all licenses from one centralized location. You can easily install, uninstall, upgrade, or downgrade licenses as the need arises.
Why We're Better
V2 Cloud is the best solution for your freelancers' management.
Always-on Availability
V2 Cloud desktop always stays on. That means your team of freelancers can use your IT resources even when you are not available. This is especially useful in remote working situations, where team members are in different locations with different time zones.
Activity Logging
If you are paying by the hour, you can easily monitor activity logs to ensure your freelancers are delivering value for what you pay. You can also view activity logs to help you understand how your freelancers use various apps and whether some can or should be replaced.
Easy Collaboration
As a centrally managed resource, you can install all the apps you need for collaboration right in your virtual machines. Whether you use Slack or Microsoft Teams, you can install the collaboration tools you need on your freelancer's virtual desktops for secure collaboration.
Enhanced Portability
Cloud-based desktops give you, and your team of freelancers enhanced portability and mobility. Since your freelancers can access their desktops from anywhere and using any machine, they can work from wherever, without compromising your data security.
Frequently Asked Questions
(FAQ)
Can I manage all cloud desktops together or one at a time?
V2 Cloud makes it easy to manage single or multiple cloud computers at once. Your choice will depend on what management task you are performing and whether you need changes replicated across your entire cloud network or just a single machine.
Can I restrict app access for some machines?
Yes, the V2 Cloud Dashboard gives you the tools to manage app access across all your machines. Need some users to use Adobe Photoshop but not others? No problem. You can easily restrict app access, so only those who need the app can access it.
How many freelancers can I manage with V2 Cloud?
You can create as many cloud desktops as you need. You can also easily add and remove desktops as your business progresses. You can also put freelancers in the same region on the same cloud desktop to save costs.
Do I need to buy software licenses for each cloud desktop?
Our cloud desktops are multi-users. When you subscribe to one, you get one user admin included and you pay a license per user afterward.