Solution
Remote Workforce Management
Desktop virtualization is increasingly becoming the go-to resource for companies that are hiring & managing remote employees. From small start-ups with a handful of employees to big enterprise, cloud computers are offering a strategic advantage over physical desktop.
When the number of computers in an organization becomes too many, it becomes challenging to manage each cloud desktop individually. Remote workforce management software can plug this gap and help you efficiently manage dozens to hundreds of remote workers.
Why Remote Workforce
Management Software?
High productivity paired with remote security
If your business provides remote work, you're probably using collaboration tools. However, collaboration tools don't provide a real infrastructure to scale and manage correctly your remote team. For example. using Google Drive to share files doesn't protect you from malware. Some other tools don't offer control, monitoring, and on-demand computer resources for your employees.
Manage your remote team easily
If you are looking for a remote workforce management solution, you need one that helps you achieve your daily tasks effortlessly. We've built our desktop as a service solution to ensure that even non-technical people can easily operate their remote employees in the cloud. Whether you are an IT manager or run a small business, our solution can help you deploy high-performing cloud desktop within minutes.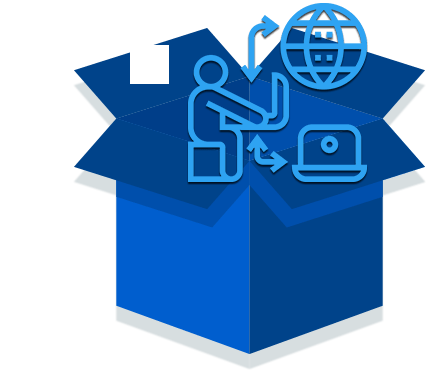 Effortless Remote
Workforce Management
Daily Backups
Cybersecurity for remote teams, also known as RemoteSec, is hard to manage. Instead of having to configure backups manually, we offer automatic daily backups for up to 7 days. You can also configure your own backup sequence for business continuity and assure that your remote employees never lose important data.
Bring Your Own Devices (BYOD)
Buying a laptop and shipping it to your new hire doesn't make sense. You can use our remote workforce management software on any laptop, regardless of their tech specs. Your new hires can bring their own devices (BYOD), download V2 Cloud and quickly connect to your cloud infrastructure.
On-Demand Resources
V2 Cloud remote workforce management software makes it easy to scale up (or down) the computer resources of your employees. We understand that an accountant doesn't need the same hardware performance as a graphic designer. That's why you can easily take control of your cloud resources with our admin Dashboard.
Employees Monitoring
Remote work is all about results and not time logged. However, we understand that in some situations, you need to have control over new employees or freelancers. All of our cloud desktops are tracking login/logoff requests and it's all monitor in your Admin Dashboard. Make sure your remote team is productive with V2 Cloud.

Access Control
V2 Cloud computers come with full admin control and visibility of your entire infrastructure of cloud desktops. With this feature, you can access, manage, and troubleshoot any desktop on your network without needing permissions from individual remote employees.
Global Access
Our global data centers come in handy when you need to manage talents in other countries. Our plan comes with global teleportation so you can set up and deploy your multi-users cloud desktops on any data centers worldwide.
Remote Workforce Management with V2 Cloud
V2 Cloud can be used easily as a remote workforce management software. We offer an integrated solution that makes it easy for you to manage all your remote employees from one place. If you have employees wanting to telework or if you are looking to hire talents located in other countries, remote workforce management makes it significantly easier to administer your cloud infrastructure. V2 Cloud virtualization software works for as few as two employees up to hundreds of cloud computers.
We're all about transparency
Perfect for Remote Teams
Better performance, productivity, and security for remote workers
Remote Collaboration
Collaboration between remote workers can be difficult. That's why V2 Cloud has a screen sharing option for better collaboration. You can easily view someone's screen and even take control if they need help setting up their cloud desktop. We have built our remote workforce management software to facilitate teamwork from anywhere.
Global User Management
Looking to enforce 2-steps authentication, add or remove employees access seamlessly or even know who online and what they're doing? Manage your remote employees by yourself or give admin permissions to who you want. You can even put workers that are closely located on the same cloud computer to save costs without losing performance.
Time Tracking
Remote work is all about results and not time logged. However, we understand that in some situations, you need to have control over new employees. All of our cloud desktops are tracking login/logoff requests and it's all monitor in your Admin Dashboard. Make sure your remote team is productive with V2 Cloud.
Dual Monitor Access
Our desktop app enables you to work with dual monitors. With this option, your remote employees can get solid work experience with our desktop as a service solution. Our remote workforce management software is accessible on desktop, in your browser, and on your smartphones.
Why We're Better
Made for remote teams; Build by a remote team
Simple Admin Dashboard
V2 Cloud remote workforce management software comes with a simple and intuitive dashboard. The dashboard makes it easy to see all the critical data you need all in one place. You can also execute actions right from the admin dashboard, such as increase RAM & Storage of your remote employees.
Quick Onboarding
Desktop virtualization competitors take your precious time away with their long onboarding process with almost no technical support. Our cloud desktops are created in 30 minutes with no IT skills necessary. Scale your remote team easily and manage it seamlessly.
Cost-Effective
Using our remote management software is cost-effective. You're getting your own IT firm plus a remote cloud infrastructure. Our technical support is included and you're saving on antivirus, backup & computer upgrades. Our pay-as-you-go pricing makes sure you're paying for the performance you're using, instead of wasting costs.
Blazing-Fast Speed
Our cloud computer performance is 3 to 8 times faster than the competition. Our remote workforce management software gives a desktop experience superior to many physical laptops. Your entire remote team will achieve second to none performance with our cloud computers—accessible from anywhere, at any time.
Frequently Asked Questions
(FAQ)
Is remote workforce management software a standard V2 Cloud feature?
Yes, it is. We are offering a fully-integrated solution and a cornerstone of our product is straight-forward remote workforce management. No IT skills are required and we provide a handful of tutorials right here.
How long does it take to onboard my remote workforce on V2 Cloud?
Building a cloud computer takes an average of 30 minutes. Our technical support specialists help you manage your cloud infrastructure and you can even add users in bulk.
Do I need your remote workforce management software to manage less than ten employees?
You can use our remote workforce management software for any number of employees. Some customers are managing more than a hundred employees at the same time. It's easy to control & monitor their cloud desktops' resources to fit your needs.
Can I use V2 Cloud wherever my employees are located in the world?
Manage your remote team better