Windows Shadow Copies let you back-up your files and keep an history so you can retrieve them in case you mistakenly delete or modify them. You can keep an history of up to 512 revisions of all the files in a specific drive.
It is recommended to first add a new hard disk to your Cloud computer (e.g. D: drive). The added drive will serve as the data drive and you will enable Shadow Copy on it. See how to add a new disk to your Cloud computer.
Right click on the drive you want to activate Windows Shadow Copy, then Select Configure Shadow Copies…
From the Shadow Copies menu, select the drive and click Enable then Yes
Windows will now use default Shadow Copies settings on this drive (2 shadow copies per day).
You can modify settings by selecting the drive again and clicking settings.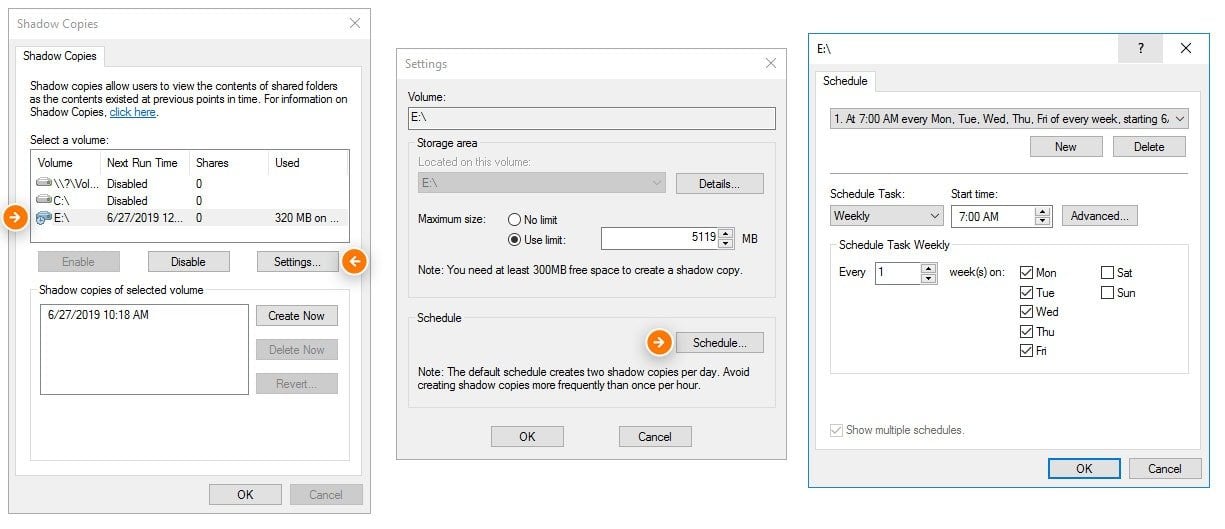 To retrieve a file that was mistakenly modified or deleted, right click on the folder or file and click Restore previous versions.
From the that menu you have a list of all the available previous versions of the file or folder so you can open to see the content or directly restore the older version.
It is important to understand that Windows Shadow Copies is a file level back-up system. If your whole Cloud computer becomes corrupted (e.g. from a Ransomware) your files won't be retrievable this way. This is why you should regularly take a full snapshot of your Cloud computer or register for a Business plan with daily automatic snapshots. See how to manage snapshots of your Cloud computer.