In this tutorial, we will show you how to setup a secure FTP server in your cloud computer. Transferring confidential files from your local PC to your cloud computer can be difficult. That's why you need a SFTP connection.
If you have a public IP address, follow option one. If you have a NAT(Network Address Translation) IP address, follow option two.
P.S. In your dashboard, you can check whether you have NAT or Public IP address by accessing the manage computer section right here:
NAT
Option 1 (For public IP address)
For a Cloud Computer with Public IP address, please follow the below steps to configure SFTP.
1. Download Core FTP
2. Execute the installer coreFTP.exe and follow the instructions to install the FTP server. In the Welcome screen click Next.
3. In the Choose destination location window, leave as default and click Next.
4. In the Select Components window, make sure only Core FTP Server for NT/200x/XP is selected and click Next.
5. In the Select Program Manager Group window click Next.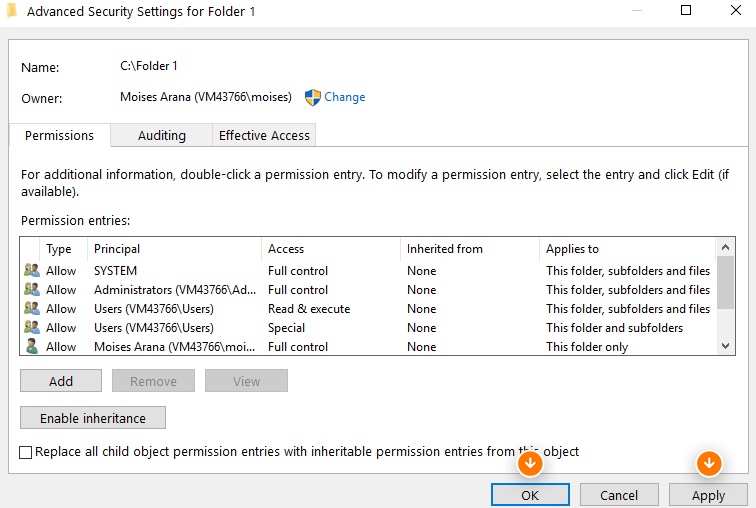 6. In the start installation window click Next.
7. Click Finish in the Installation complete window.
8. Click Windows Start menu and search for Core FTP server.
9. In the main menu, please click Setup button.
10. In the Setup menu click new.
11. Fill the below fields with your information and then click Ok to save the settings.
Domain Name: Input a short name for your service.
Domain IP/Address: Input your complete Cloud Computer DNS name. This can be found in your dashboard in the manage computer section, DNS name, i.e. DNS: vm43766.cloud.v2cloud.com
Port: Enter a 4 digits port, i.e. 5555
Base directory: Create a folder in your cloud computer where transferred files will be copied, i.e. c:\ftp
Check SSH/SFTP option to enable a secure connection
12. Configure a certificate cy clicking in the Self signed certificate button
Type a password of minimum 4 letters or numbers
Confirm the password and click OK
13. The final configuration should look like this, click OK to save your settings.
14. In the Setup window click to select your FTP settings and in the Users section, select New.
15. In the User Details window enter the following information:
User name: create a new user to authenticate to FTP server, i.e. ftpuser
Password: Type a strong password, it will be used later to connect to your FTP server.
Home directory: Select the folder created in step 12 (Base Directory)
Once completed click the permissions tab, click add and select the FTP folder, then grant the required access by checking the File and Directory Permissions. Click OK when finished and OK again to exit the Setup window.
16. Click access rules in the FTP server main menu.
17. In the Access rules menu select Allow Access and type * to grant connection to all IP address to your FTP server. Click OK to save the access rule.
18. In the Core FTP Server menu, select Start button to initiate the FTP server.
19. FTP should show active.
NOTE: In the public IP address scenario, check if your firewall is enabled in your dashboard; if it's enabled please create a rule to allow connectivity to your FTP server over the assigned port in step 12. If it is disabled there is no need to modify any other setting.
Option 2 (For NAT IP address)
For a Cloud Computer with NAT IP address, please follow steps 1 – 19 and then configure the following:
1. Configure port redirection to the port defined in step 12, this can be completed from your dashboard following this tutorial: https://v2cloud.com/tutorials/how-to-forward-a-port-to-your-cloud-computer
Take note of the port assigned because it will be used to connect later to the FTP server.
i.e. 58628 to 5555
NOTE: This applies for both NAT and public IP addresses. If Windows Firewall is enabled in your Cloud Computer, please create a new rule to allow Core FTP app to run correctly. Select private and public as shown in the image below.
Application to allow: C:\Program Files (x86)\CoreFTPServer\coresrvr.exe
That's all. Now, you know how to setup a secure FTP in your cloud computer.