VPNs establish a secure connection between themselves and a device, allowing the device to pose as the VPN server to the outside world. Consequently, they are effective in surfing the internet anonymously.
Getting access to a VPN is possible by getting a router with VPN capability, subscribing to a VPN service, or setting up your computer as a VPN server. However, for home business owners, you can set up a VPN on a home computer which can act as a VPN server with little differences.
This quick guide will show you how to set up a VPN on your Windows computer.
What You Need to Know Before You Set Up a VPN
Before you set up a VPN on your Windows computer, there are a few things you have to know about the VPNs and the process itself.
The computer on which you will set up the VPN server must always be awake. You can check up on this article to keep your computer awake.
The created VPN server can only mimic its hosting computer's location. Therefore, connecting to a home VPN server won't make you access other locations aside from that of the VPN server. However, you can bypass this if you host your VPN server on cloud computing software.
The VPN server's speed depends on your internet connection. Therefore, it is not a better choice if you have limited bandwidth.
The VPN server will only encrypt the connection itself and your device to protect your data from the public. However, whatever you do online is still visible to your Internet Service Provider.
How to Setup a VPN Server on Windows
Follow the steps below to set up a VPN server on Windows. The steps below were carried out on a Windows 11 computer but are applicable with little to no alteration to Windows 8 and 10.
Click the Windows key and type ncpa.cpl to open the Network Connections window
Press the Alt key to show the file menu
Under the File menu, click on New Incoming Connection

Click on any of the user accounts listed or add a new one by clicking on Add someone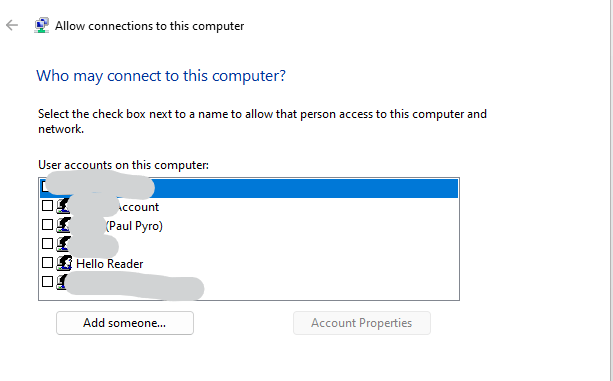 Enable the Through the internet option to allow another computer to connect to the host computer using a VPN connection
Choose the networking protocols you desire
Wait as Windows creates the VPN service.
After creating the VPN server, you must ensure that the computer acting as the VPN server can receive a signal from other devices. This is achievable by using port forwarding.
Follow the steps below on how to use port forwarding.

Launch the Command Prompt as an administrator
Enter the command ipconfig/all and press Enter
Copy the IPv4 Address, Subnet Mask, Default Gateway, and DNS Servers.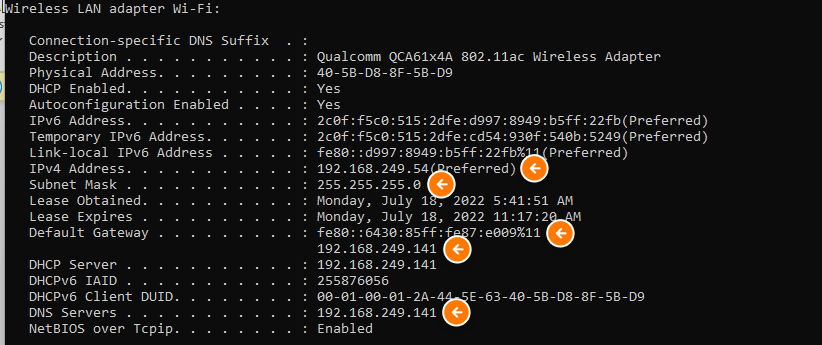 Open the Control Panel
Click on Network and Sharing Center

Click on Change Adapter Settings
Right-click on the Adapter (Wi-Fi)

Select the Internet Protocol Version 4 (TCP/IPv4) and click on Properties
On the General tab, select Use the following IP address
Enter the copied addresses from Step 1
Click on OK
Open your web browser on the computer serving as a VPN server
Under the search bar, enter the keywords What is my IP address
Copy the displayed public IP address
Most times, the public IP address is not static. Therefore, you need to set the DDNS on your router
Login to your router
Under DDNS Configuration, configure the DDNS settings
Login to your router and navigate to the port forwarding option
Enable port mapping and set the following
Type: Application
Mapping Name: VPN Server
Internal host: IP address of the computer serving as a VPN server
Protocol: TCP
Internal port: 3389
External port: 3389
Open the remote computer's Windows Integrated VPN
Click on Network & Internet and select VPN

Enter the VPN information and click Save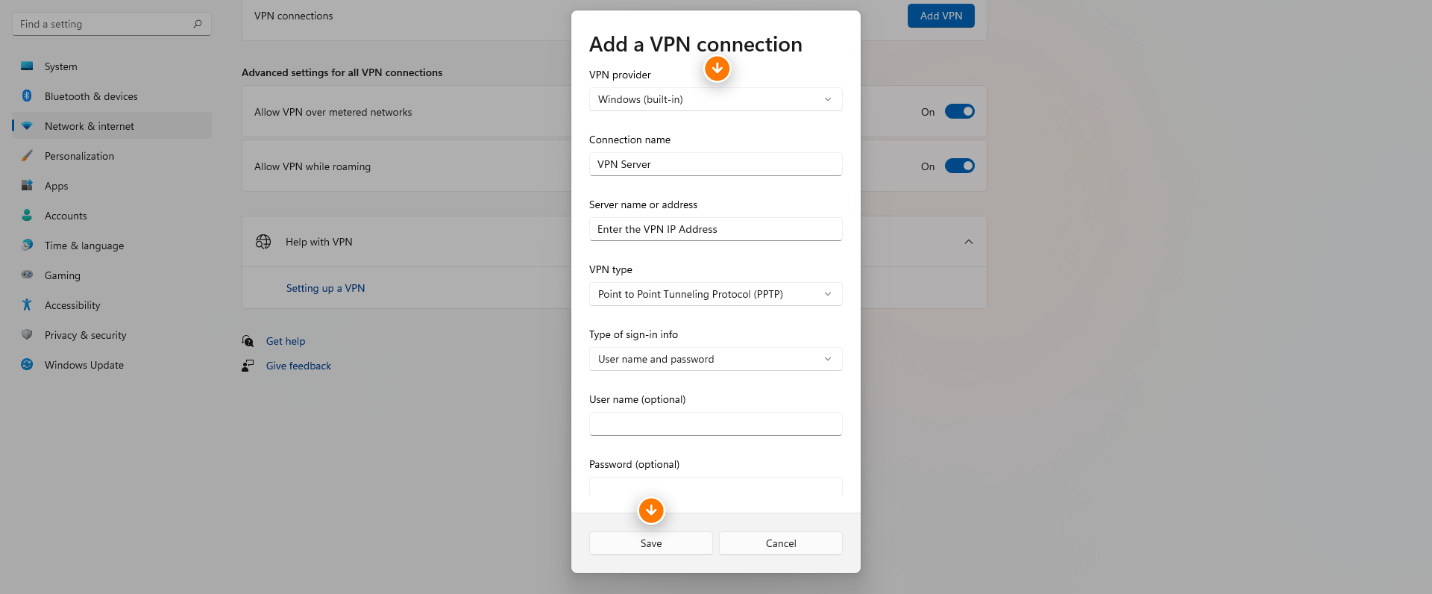 VPN Provider: Windows (built-in)
Connection name: Your choice
Server name/Address: VPN Server IP address
VPN Type: PPTP
Type of sign-in info: Select your preferred type
Then your VPN connection will be listed along with the wi-fi connections.
Use a Cloud Computer Software – V2 Cloud
Using V2 cloud computing software is an easier way to set up a VPN. This will eliminate the need for the host computer to be online, software updates, and server maintenance while providing access to geo-restricted content. Of the many cloud computing software used for setting up a VPN, V2 Cloud offers a safer cloud desktop infrastructure for small and large business owners. With the software, you can easily render Windows software and applications on the cloud, a step necessary to set up the VPN server. Aside from that, V2 Cloud boasts of an unequal user experience and performance, simplicity, and scalability.