In this tutorial, you will learn how to change your V2 Cloud subscriptions from a monthly commitment to an annual commitment to keep your current prices. Feel free to contact [email protected] for any questions regarding our recent price increase. The official communication sent in 2022 can be found here.
Notes: Nothing is paid upfront with an annual commitment. You commit the cloud computers for a full year while you keep 12 monthly payments. The annual commitment can be set independently for each of your cloud computers. This means you can have a hybrid scenario with some cloud computers on an annual commitment and some on a monthly commitment. You can switch to an annual commitment anytime before March 1st to freeze your prices.
Log to your Dashboard. There is a new green button beside Commitment.
Click on Switch to yearly. This will change your monthly subscription to an annual commitment with 12 monthly payments. Your new annual billing cycle will start right now. Click Submit
NOTE: The 15% discount is what allows you to freeze your current prices if you switch to an annual commitment before March 1st. Feel free to contact [email protected] for any questions.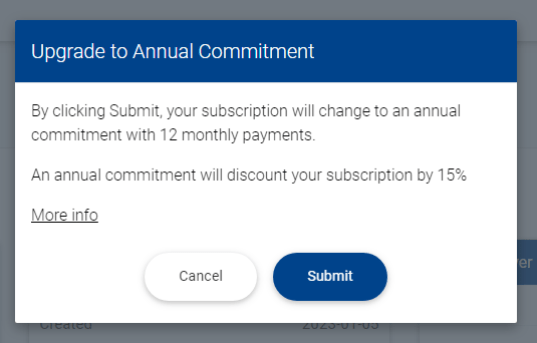 You are done! As you can see, it is now written Yearly beside Commitment. Your annual billing cycle starts today for a full year.
Thank you for trusting us, we greatly appreciate your business and your commitment will go toward boosting our innovations!