If you are looking to install the Remote Desktop Connection Broker (RD Connection Broker) on your Windows Server, chances are you want to, or are in the process of setting up a Remote Desktop Services (RDS) server farm deployment, or you wish to access the complete functionality of RDS. Whatever your objective, it is important to note that to have RDS fully deployed and ready for use, there are a number of other roles and pre-requisites that need to be installed.
This tutorial will only outline the steps to install the Remote Desktop Connection Broker server role. Before we begin, we'll provide an overview of what RD Connection Broker is and why you'd need to deploy it in your RDS environment.
Overview of Remote Desktop Connection Broker
Remote Desktop Connection Broker manages incoming remote desktop connections to a Remote Desktop (RD) Session Host server farm. A RD Session Host server farm consists of two or more RD Session Host servers. A farm allows you to:
Scale your RDS deployment to allow for server redundancy
Distribute session loads across host servers in the farm
Compensate for growth (increased specs, more users), due to the need for more compute resources
If you have a RDS server farm setup, the below will be an example process flow from a high-level of what the RD Connection Broker does.
Incoming remote desktop connection → handled by RD Connection Broker → RD Connection Broker decides which RD Host server to send the incoming connection.
The RD Connection Broker is like a manager, it sits in the middle of the design, providing client connections access to hosted server desktops and remote applications.
Tasks of Remote Desktop Connection Broker
The RD Connection Broker is also responsible for other granular tasks. These tasks include:
Assigns users to Remote Desktop Host Server's resources (remote desktop, remote applications, web access)
Session Load Balancing
Reconnection to existing RDP sessions (that have been disconnected)
Provides access to virtual desktops in a virtual desktop collection
How To Deploy a Remote Desktop Connection Broker
Please follow these steps to install the RD Connection Broker. This example was done on a Windows 2016 server.
Log into your desired server with your administrator account and start Server Manager
Click Add roles and features under Configure this local server in the Server Manager window.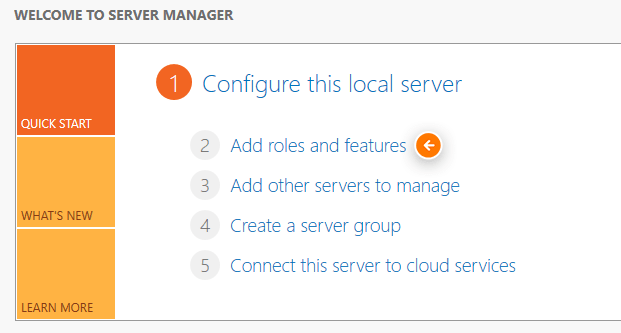 Click Next at the Before You begin window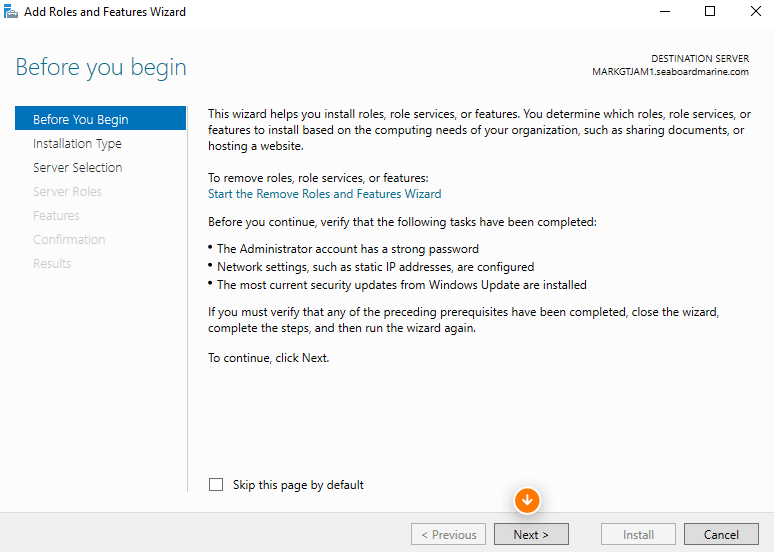 Select Role-based or feature-based installation then click Next.
Select the option Select a server from the server pool, then highlight your desired server by clicking on it, then click Next.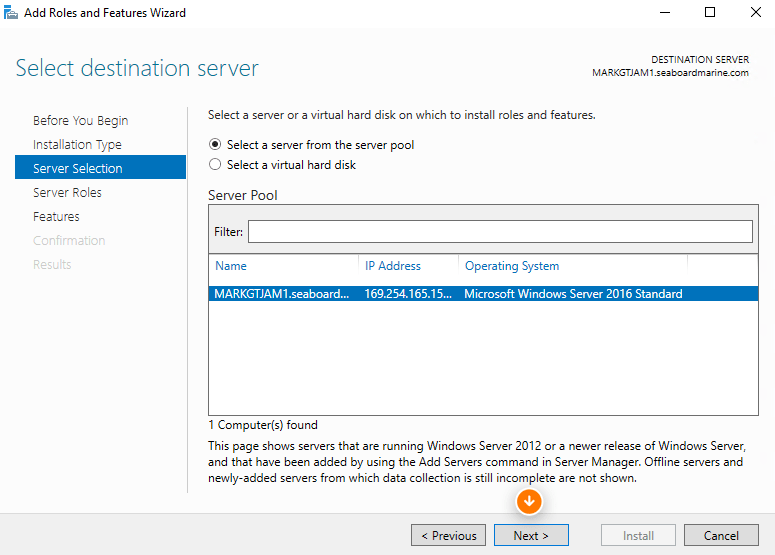 Click the drop-down arrow beside Remote Desktop Services, select Remote Desktop Connection Broker.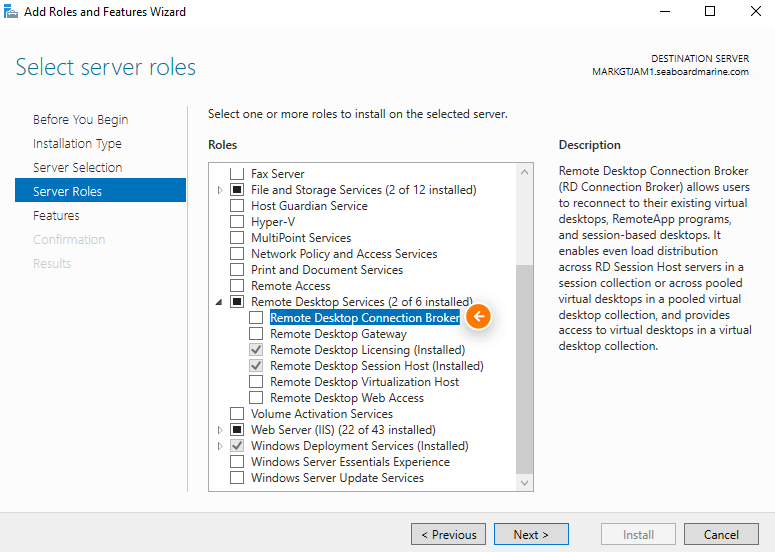 Click Add Features at the Add Roles and Features Wizard pop-up window.
You'll notice that the Remote Desktop Connection Broker now has a check beside it. Click Next to proceed.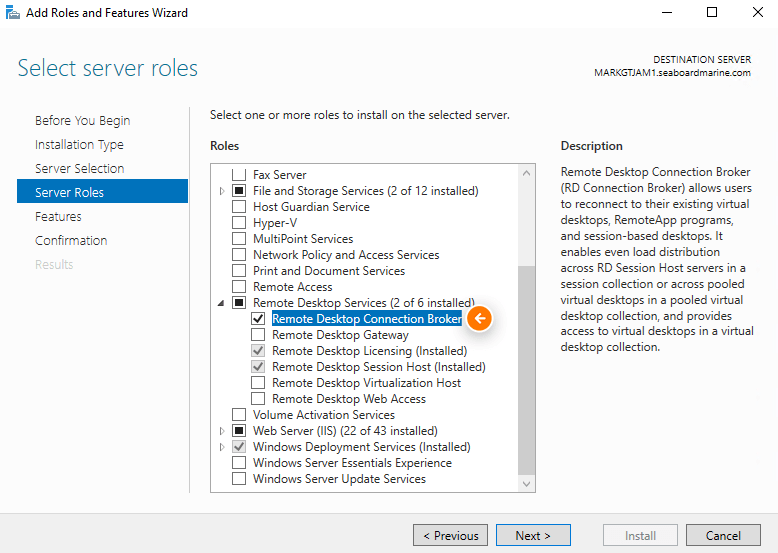 Click Next at the Features window.
Click the "check-box" beside Restart the destination server automatically if required.
Click Yes at the pop-up box.
You'll notice that the "Restart the destination server automatically if required" option now has a check beside it. Click Install to proceed.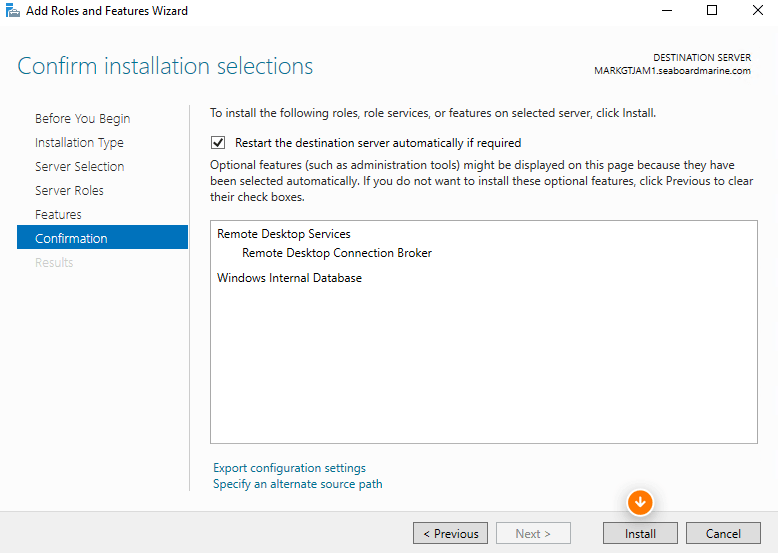 The installation will now begin. Click Close when the installation has been completed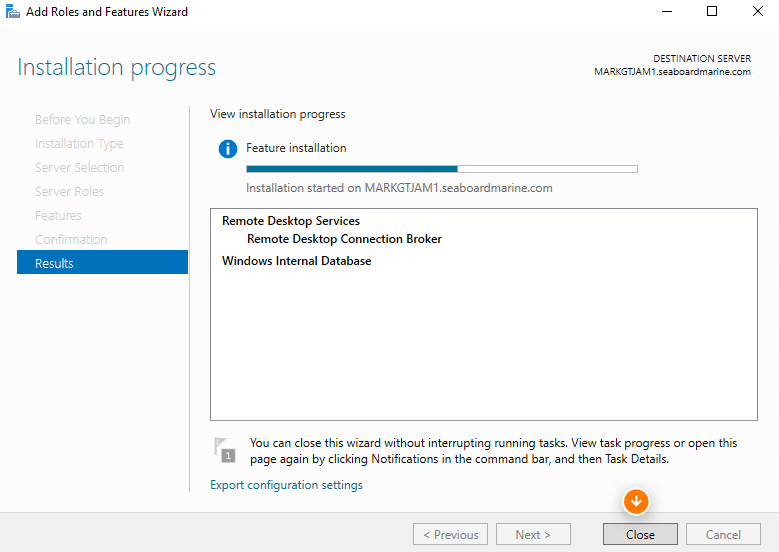 The Remote Desktop Connection Broker server role has now been installed.
What Next?
As stated earlier the main reason for wanting to install a RD Connection Broker is to have access to the full functionality of RDS including the deployment of a farm. When installing the RD Connection Broker server role on its own with the objective to use RDS in its full capacity you'll have to either install the other requisite server roles and features separately or run a new deployment and select "Remote Desktop Services installation" type. If you do not know what you are doing this can be time consuming and costly.
There is a better way to do IT with V2 Cloud
By using V2 Cloud, you get access to a fully-integrated virtual desktop solution, without the traditional complexity of other cloud providers.
There is an easier way to enable secure remote access to employees without sacrificing end-user experience and performance.
V2 Cloud offers a cloud desktop infrastructure with
No hidden fees
No complicated setup
No contracts
Flat-rate pricing model
We're the #1 virtualization solution for small businesses. Create virtual desktops, servers, and applications to improve productivity and significantly reduce your IT costs.
Learn more about V2 Cloud and our cloud VDI solution. Get started with a risk-free 7-day trial, and experience the simplicity, scalability and power of V2 Cloud.