Fully Integrated Virtual Desktops
Secure your remote workforce with an easy to use, fully-managed Desktop as a Service (DaaS) solution that scale with your business.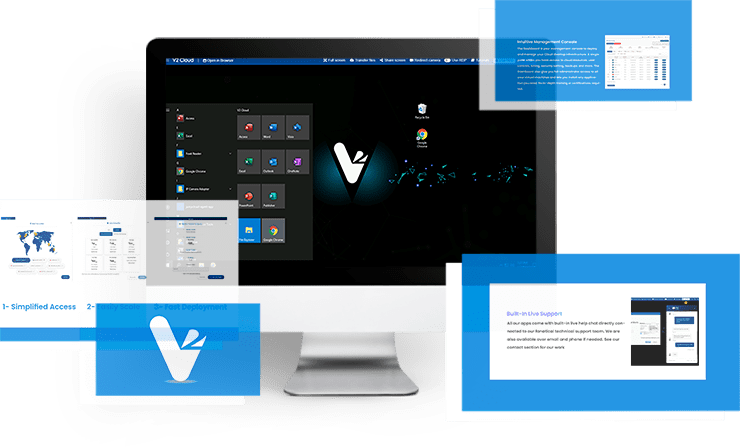 Trusted by Over 25,000 Users All Around the World
Increase Your Security
Extra Layer of Protection
Managed antivirus and daily backups so you can always rely on your system's integrity. Plus, MFA and SSO is available to guarantee your environment is always safe.
Built-In Security
From data encryption, firewall, policy controls and private networks between virtual machines, rest assure to have a secure remote connection from anywhere.
Compliant Data-Centers
Periodically audited to comply with HIPAA, PCI and SOC security standards to meet your highest requirements.
Improve Onboarding
Simplified Access
Provide a secure and fast Cloud desktop for all your employees so they can work from home on Windows, Mac, Android, iOS, Raspberry Pi and Linux.
Easily Scale
Scale up or down to meet your needs. Increase your cloud desktop performance and storage in a few clicks. Quickly manage access to contractors and offshore employees.
Fast Deployment
Deploy new desktops pre-installed with your business applications in a few clicks—available from your desktop, browser & smartphone. Our support team is always there to help you if you need it.
Reduce IT Expenses
Transparent Pricing
Our pricing is contract-free, with no minimum order or hidden fees. Easily predict your IT budget months in advance.
Reduce CapEx costs
100% Cloud-based virtual desktops let you provision new workspaces without buying and shipping laptops anymore.
Fanatical Technical Support
We help our customers on a average of 3 minutes, responding to their requests by online chat, email and phone. Always free of charge.
$30
Starts at $30 per user,
per month.
No Technical Expertise Needed. Ready in 20 minutes
Enable Hybrid Work For Your Business
Enjoy virtual desktops tailored to your needs
Desktop Management Made Easy
Suitable for a BYOD policy
Seamless transition between physical and remote office
"I've been using V2 Cloud for over 2 years now, and it has been fantastic. Our productivity has increased as we can all work off the same server. I recommend V2 Cloud to any business in search of a secure, reliable, and cost-effective cloud desktop solution."