Why Do You Need a Cloud Desktop?
Implement a cloud infrastructure and improve your cybersecurity, your employees' productivity while reducing your IT costs.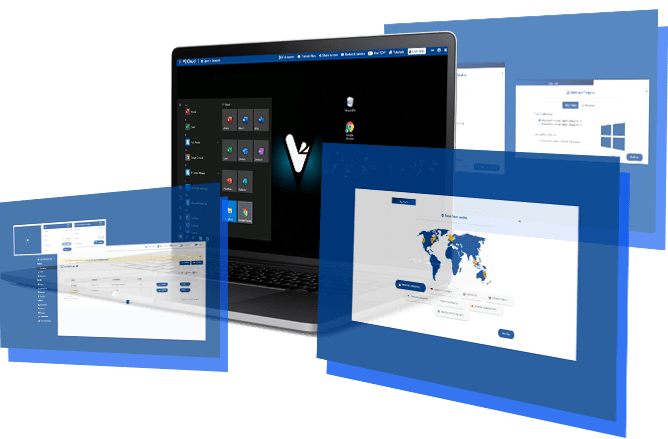 Trusted by Over 25,000 Users All Around the World
What is V2 Cloud
V2 Cloud is a fully integrated Desktop as a Service (DaaS) provider. Also known as a cloud desktop (virtual machine) provider, V2 Cloud deploys cloud-based Windows desktops to offer businesses the best cloud infrastructure possible.
We aim to offer a simplified, cost-efficient, fast, and scalable solution to companies looking to offer their team a secure, remote IT solution. Compatible with a wide variety of applications, V2 Cloud can be used on different operating systems. You can also publish any Windows application and use it as a Software as a Service (SaaS).
Why Do I Need a Cloud Infrastructure?
By using cloud desktops, you get access to computing services that you would have to build from scratch which requires a high technical expertise. When we talk about desktop virtualization, we're removing the need for physical servers and desktops by delivering them via the Cloud. Here are a few benefits that a Desktop as a Service provider will bring you:
Greater performance
Efficient and affordable
Robust data protection
Easily scalable
Build-in security
Hands-on control
Accessible 24/7
Why Choose V2 Cloud as Your Cloud Provider
Higher Performance
The cloud is well known for improving employee productivity. By using V2 cloud as your IT infrastructure, you can benefit from low latency, blazing-fast, and accessible cloud desktops. We partnered with world-class data centers so you can access work from anywhere.
Unlimited Technical Support
Reviews don't lie. Our top-notch technical support is here 7 days a week to help customers within minutes, responding to their requests by online chat, email, and phone. Plus, your Cloud infrastructure is monitored 24/7 to guarantee 99.95% Cloud availability.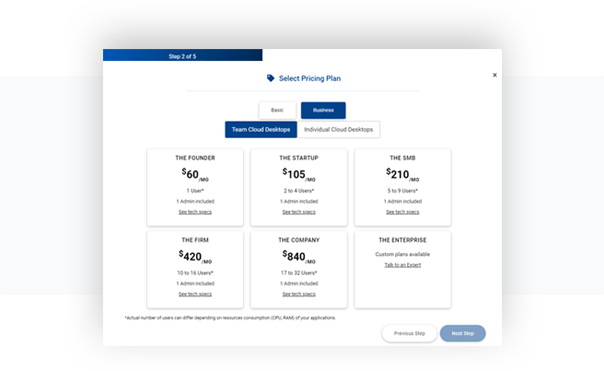 Flat-Rate Pricing
Never be a victim of hidden fees and upfront costs. We pride ourselves on our transparent pricing so you can predict your IT budget. Pay for what you need with a monthly, no contract, bill. No minimum of users is needed to enjoy the benefits of our flat-rate pricing.
Enhanced Security
We don't take cybersecurity lightly. We manage your antivirus and firewall to make sure you have peace of mind. Here are a few important steps we take to make sure you enjoy a fully secure environment:
Our Datacenters are periodically audited to comply with HIPAA, PCI and SOC security standards.
To ensure data redundancy, we only use enterprise-grade NVMe drives with RAID-1 replication on all servers.
Every virtual machine comes with its own isolated private network with no incoming port open.
All public IPs have anti-DDoS protection included and connections to your office resources are made using site-to-site IPsec VPNs.
Connections to the Cloud desktops using the web and mobile app are encrypted.
All our apps support multi-factor authentication(MFA) and SSO SAML integration.
We take a copy of your data to a secondary location for extra protection against ransomware.
In addition, by accessing cloud desktop on your personal device, your personal data will remain separate from your business apps.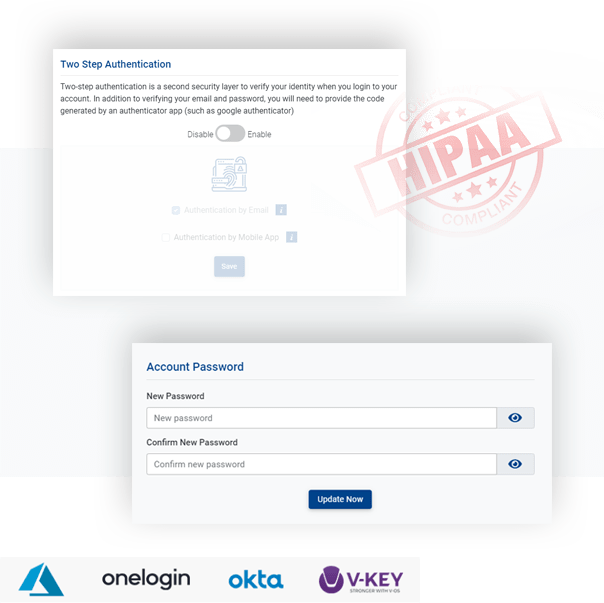 Frequently Asked Questions
Can I use V2 Cloud even if I don't know IT/don't have an IT team?
Yes no worries!. We have a solid support team that can help you throughout the process. You can reach us via chat or email, and we are less than 3 minutes away. We also have a
tutorial
and a
remote guide
to help you further.
How can cloud desktops help me and my team?
Cloud desktops provide the best IT infrastructure to support hybrid work. They ensure businesses' high availability, reliable performance, and easy, secure access for your entire team. Best of all, V2 Cloud offers a centralized dashboard that makes IT management seamless and straightforward.
Do you provide a trial period?
Yes, we provide a risk-free trial period of 7 days. You pay the total amount at the time of registration, but we will automatically refund your order if you cancel within 7 days, no question asked.
How does billing work?
You pay a fixed monthly price. No surprises or hidden cost. You can cancel your subscription when you want.
How secure is my data with V2 Cloud?
Cloud desktops are more secure than traditional desktop computers. Our data centers are periodically audited to comply with HIPAA, PCI and SOC security standards. Learn more about how we ensure data security
here.
Although, you should be aware of your cybersecurity posture. Humans are the last line of defends against ransomware. If you're not sure about the measures your organization implement, take our quiz to know more.
Ease of Management
Everything is manageable from a centralized dashboard. From our intuitive dashboard, deploy new desktops pre-installed with your business application and increase your performance and/or storage. Also, easily scale up or down to meet your needs.
Implement a cloud infrastructure and improve your cybersecurity, your employees' productivity while reducing your IT costs.
Contact us to know how V2 Cloud can help you and enjoy a
7-day risk-free trial!